Necklace Size Chart - Choosing the Right Necklace Length
Nowadays, more and more people will choose to wear jewelry; the necklace is one of the popular daily wear jewelry; both men and women can find their necklace. It is important to select the right necklace length, which determines the weight, price, and style of the necklace. Women's and men's necklaces vary in length, here are the details: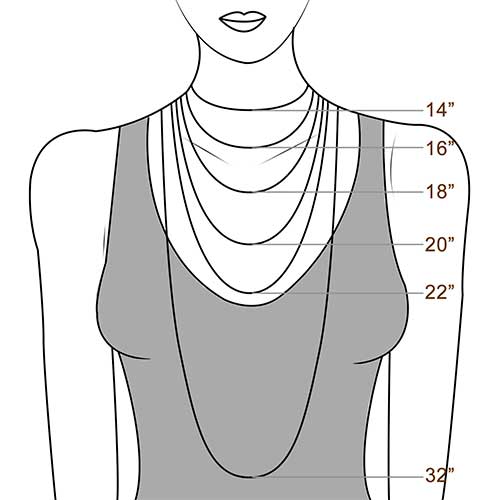 Female necklace
16 inches (40cm): the length is equivalent to the collar
18 inches (46cm): dropping to the position close to the collarbone
20 inches (50cm): dropping to the bottom of the collarbone
22 inches (55cm): close to the neckline
24 inches (60cm): dropping to the neckline
In general, a 16-inch (40cm) necklace fits perfectly around the neck like a collar. For a petite woman, it will be slightly closer to the clavicle. Most necklaces have this length size. It fits nicely with almost any outfit and fills the space on the collar.
The 18-inch (46cm) necklace is the most popular size among women, with a drooping point just below the throat. This length of necklace paired with a slightly larger pendant that compensates for the deep V neckline space and gives it a sharp contrast to the outfit. For taller women, wearing a necklace of this length will have a similar effect to a collar.
A 20-inch (50cm) necklace that hangs down slightly below the clavicle, giving a feeling of a more comfortable "breathing space." Many women prefer necklaces of this length and wear them for business or casual wear. For turtleneck and pullovers, this length is also the right choice.
Male necklace
Male necklaces generally only have three specifications:
18 inches (46cm): close to the base of the neck, it is a small necklace
20 inches (50cm): close to the clavicle, it is the most common size
24 inches (60cm): dropping to the chest position
For petite women with a slender neck, 16 inches is the length that fits most women. Similarly, 18 inches is the length that fits most males. If these two sizes are not suitable, the custom necklace can also provide a separate adjustment chain, which can adjust the length of the necklace. At the same time, different types of necklaces can be appropriately matched with the style and shape of the specific pendant. Besides, there are different styles of necklaces such as name necklace, box chain, cross necklace, and so on, you can choose the necklace with the most suitable length, thickness, and shape.