Graduating from high school is an important milestone in a young person's life, and parents frequently opt to recognize their graduating adolescent with meaningful presents that signify their love, support, and encouragement.
These presents serve as expressions of appreciation for the hard work and devotion demonstrated during the educational journey. This article examines the significance of such presents and offers several thoughtful options to help parents choose the right graduation gift for their cherished adolescent.
1. Graduation Money Holder
Beyond the cap and gown, check out our extraordinary gift idea. Our Graduation Holder is a wooden card box that may be personalized with the graduate's name, graduation year, and a unique message.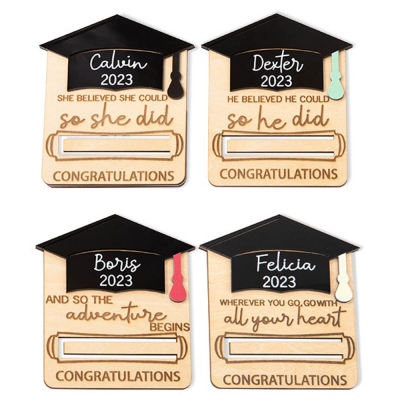 It is embellished with inspirational graduation quotations and an engraved phrase expressing hopes for their future and best wishes. It is an ideal graduation present for students, daughters, boys, and anybody else who has reached this milestone.
2. Memorial Tassel for Graduation Hat
Parents everywhere look for the ideal way to recognize their high school graduates' achievements since graduation season is almost approaching. With our most designed gift, a memorial tassel for graduation hat is an excellent way to celebrate a significant life event, such as graduating.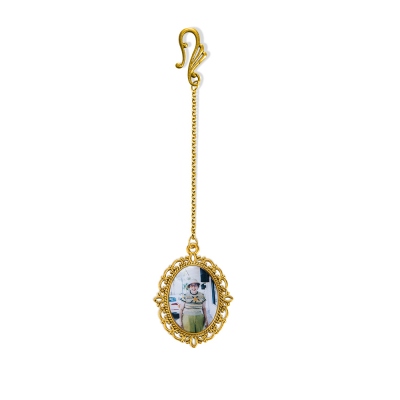 It is significant, meaningful, and personalized, with lovely photo pendants and unique writing on the disc or heart. It is a unique present to treasure since it allows families to observe and participate in the main moments of their lives together.
3. Custom Graduation Keepsake Print
Are you searching for a meaningful and memorable way to commemorate your adolescent's high school experience? We have a present worth a sale, a custom graduation keepsake print.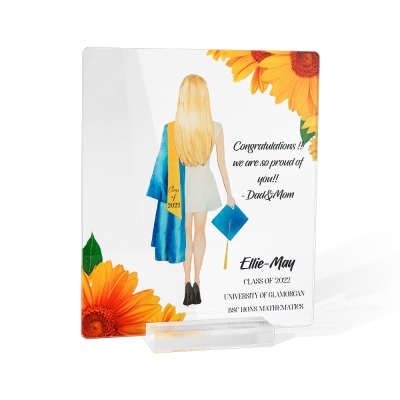 Customization is a significant aspect of a graduation present since it allows the recipient to select the pattern, haircut, skin color, shoes and apparel, and accessories and add information such as name, school name, topic, and graduation year.
Practical Ornament is made of acrylic and comes in two sizes with five different backgrounds to select from, and Present Graduate is an ideal present for graduates to commemorate their learning experience.
4. Heart Graduation Necklace
Discover a collection of heartfelt and inspiring gifts for your charming graduate teenager, a heart graduation necklace. This graduation necklace is made of 925 sterling silver and contains a heart-shaped pendant that may be engraved with the graduate's name.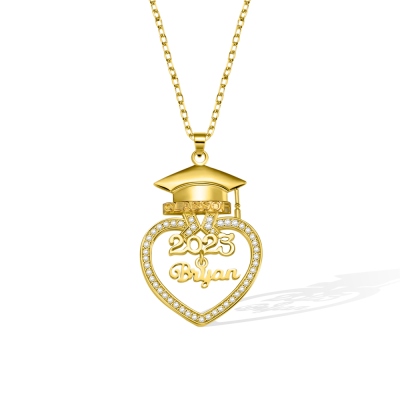 It is embellished with glittering zircon accents and is a lovely and meaningful way to mark this significant life event. It is an ideal graduation gift for that adolescent!
5. Personalized Bachelor Cap Name Necklace
From personal souvenirs to practical tools for the future, this article reveals a treasure mine of high school graduation gift ideas that will capture the soul of your child's accomplishments. An example of such a gift, a personalized bachelor cap name necklace is worth your time.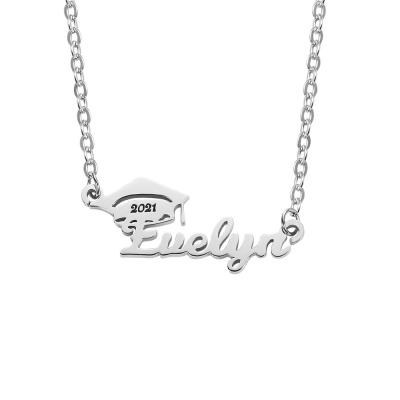 This name necklace incorporates the bachelor's cap into the design, making it simple and generous. It may be personalized with the recipient's name and graduation year, making it an ideal graduation present.
6. Celebration Graduation Cap Bolo Bracelet
Wipe away all your graduates' horrible moments when they struggled to reach where they are with this amazing and stunning gift idea, celebration graduation cap Bolo Bracelet.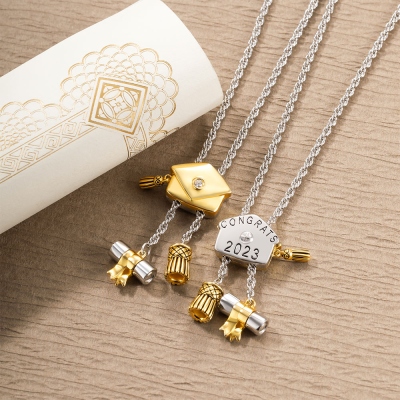 The graduation Cap for Celebration Bolo Bracelet is a stylish and unique graduation present with a hanging tassel and diploma scroll. It is adaptable and relevant, reminding people of their achievements and demonstrating support. It's a one-of-a-kind approach to show support and wow.
7. Custom Name Graduation Teddy Bear
From significant gestures to unexpected surprises, this guide to high school graduation presents from parents will immerse your graduate in a world of celebration and appreciation. One thing is for sure this gift, custom name graduation teddy bear is ideal and specific for that toy lover or teen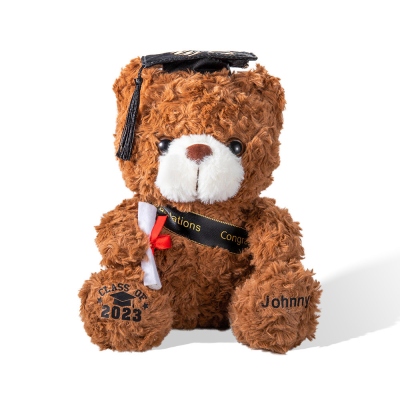 It has a wonderful way to recognize a new graduate's success. It may be personalized with the graduate's name, school badge, school name, or a unique message. Such a lovely gift I mean!
8. Engraved Compass Bar Necklace with Birthstone
Do you want to explore a variety of engaging presents that will equip your child for the trip ahead while acknowledging their successes as they prepare to stretch their wings and soar into the next chapter of their life? Get them this present, an engraved compass bar necklace with a birthstone.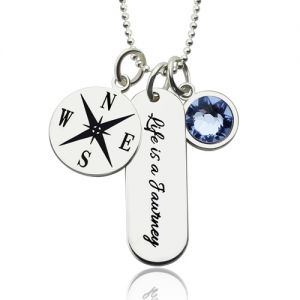 Our Inspiration Necklace is ideal for a recent graduate. With this beautiful item, you may show them how pleased you are with their accomplishments. Any term or school name may be engraved on the silver bar pendant. The pendant and bead chain is made of silver and may be personalized with their choice of birthstone.
9. Portable Charger
Today where we are, almost everything is technological, so why not get that graduate of yours our lovely device gift, a portable charger? Honestly, they are going to use this way more than you think. The bonus is that it's so compact, they can throw it in their purse or bookbag.
The Power bank features a sleek design and better texture, and it can charge the iPhone 8 1.5 times or the iPhone X once. It includes an updated built-in Lightning Cable that allows it to work with thicker cases and is ultra-compact, making it simple to sneak into a pocket or handbag. It also includes a USB C cable and a user handbook.
10. A Sunrise Alarm Clock
Discover the art of gift-giving as we showcase a selection of inventive and appealing high school graduation presents from parents, each thoughtfully chosen to represent your child's individual narrative of development and success. Why not try this beautiful gift, a sunrise alarm clock?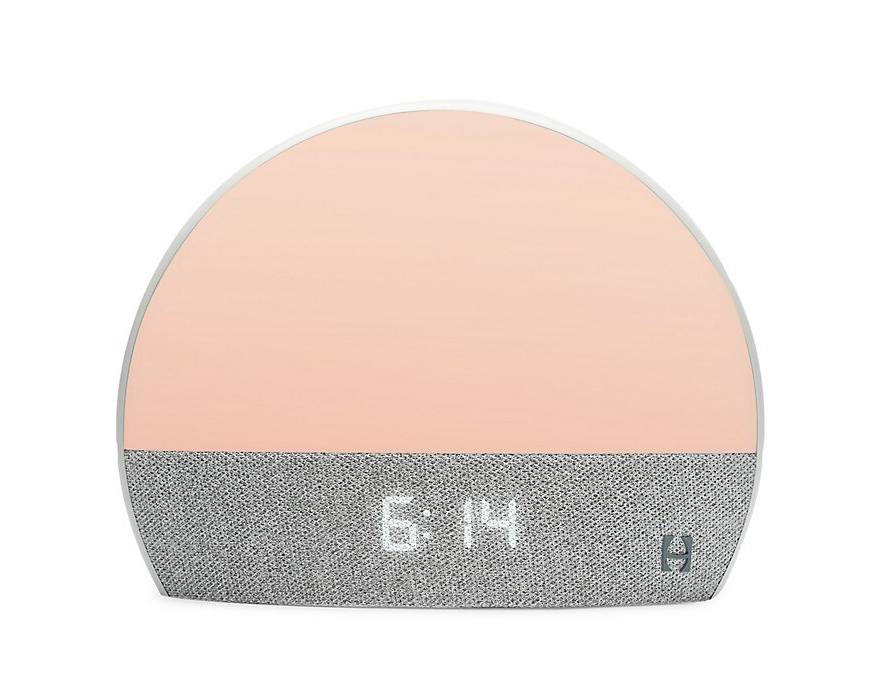 HATCH's Restore sound machine with smart light and the sound library can help you fall asleep and wake up refreshed. Wake up to a personalized dawn alarm clock, set the atmosphere with soothing sounds, white noise, and lighting, unwind with a soft-glow reading light, and enjoy peaceful content.
11. Personalized Docking Station
A well-organized and arranged stuck of things is everyones desire and wish unless the world changed its order! Get that lovely graduate close to you this thoughtful gift idea, a personalized docking station.
This docking station is compatible with all cell phones, tablets, and iPads. It comes in eight different colors and is intended to keep all everyday essentials tidy and simple to find. It is intended to keep cellphones, tablets, keys, watches, glasses, and wallets organized in various compartments.
12. Phone Holder
Do you want them to clip it onto anything to be hands-free while watching Netflix, taking an online class, or Facetiming with you? Get them this magical beast device, a phone holder.
The gooseneck phone holder for the bed has been improved for more stability and longevity. It is intended for various uses, including viewing Netflix, utilizing Facetime, reading recipes, taking selfies, and video recording. It includes a 33.4-inch (85cm) bending lazy long snake arm with a high-quality Aluminum-magnesium alloy solid core that is simple to install.
13. Apple AirTag
At times it can be quite hectic adjusting to new places and quite a drama since you tend to lose a lot of your things. With this Apple Air Tag, that problem will be well dissolved rightfully.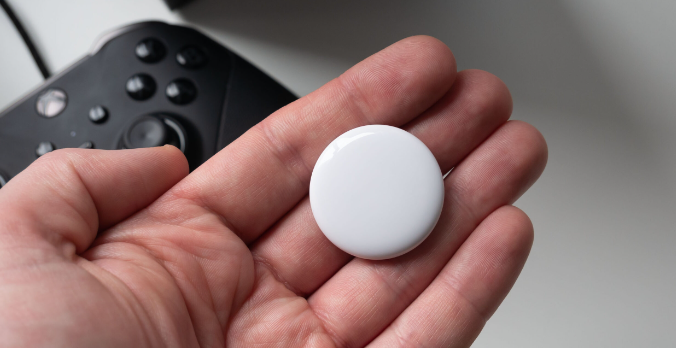 AirTag is a gadget that allows users to monitor and locate their belongings using the Find My app and their friends' devices. Setting up, playing a sound using the built-in speaker, or asking Siri for assistance is simple. Is IP67 water and dust resistant, and all communication with the Find My network is anonymous and secured.
14. Custom Leather Journal
Young misplaced thoughts can be quite intrusive and if not taken care of with our special master, the custom leather journal, there must be a huge problem.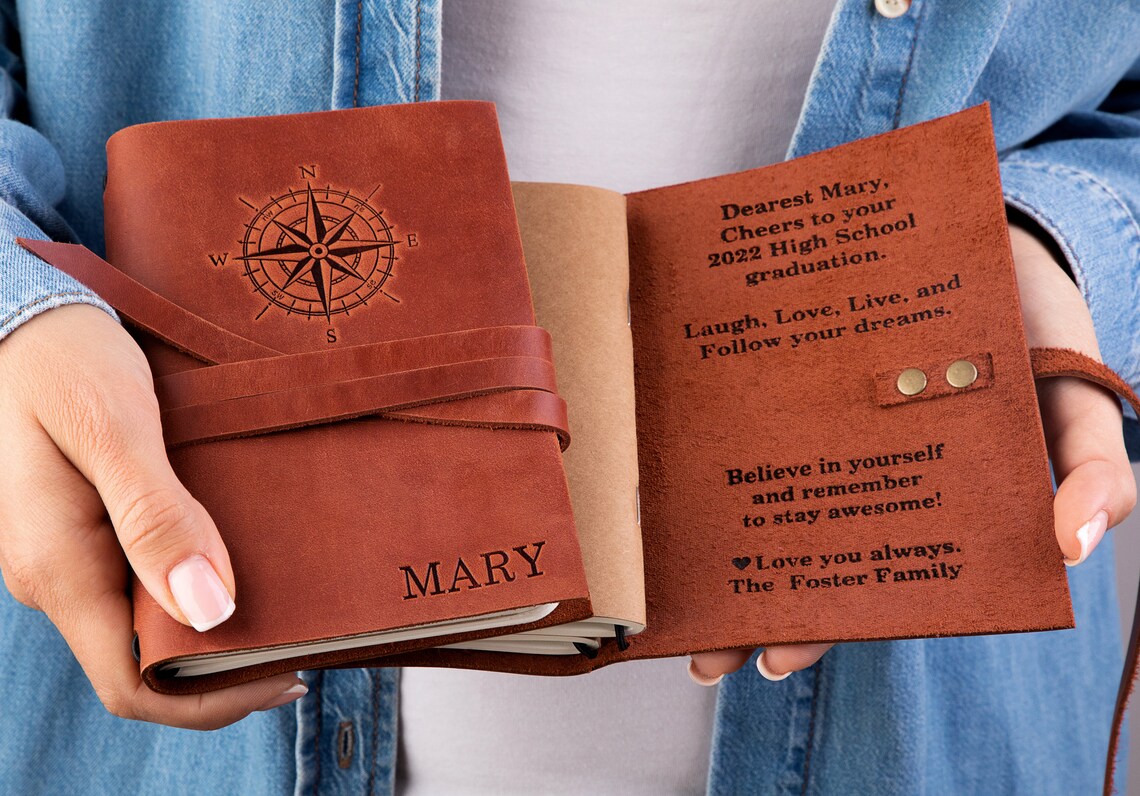 A personalized leather diary is a thoughtful and functional present for any occasion. It is constructed of real cowhide leather, is packed with paper blocks, has a hot stamp embossed on the front, and is engraved inside with your inscription. It is both functional and elegant.
15. Macbook Pro M2
Celebrate your high school graduate's accomplishments in style with a hand-picked selection of presents that go above and beyond the usual, ensuring that this milestone is remembered. Celebrate them with this outstanding machine, Macbook Pro M2.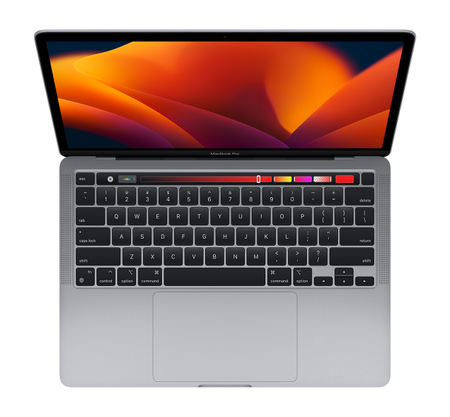 M2 is Apple's next-generation silicon, with an 8-core CPU, up to a 10-core GPU, and a media engine capable of playing and editing up to 11 streams of 4K and up to 2 streams of 8K ProRes video. It also has a media engine capable of playing and editing up to 11 streams of 4K and 2 streams of 8K ProRes video.
Show that you notice your kid's progress with special gifts
The most significant information in this book is that high school graduation presents from parents represent parents' steadfast support, love, and belief in their child's skills and goals. Gifts can vary from nostalgic memories to practical tools to help graduates prepare for their future.
The ultimate significance of high school graduation presents from parents is not in their monetary value but in the passion and affection they reflect. Presenting a significant gift honors the graduate's hard work, perseverance, and tenacity in reaching this milestone.