Mother's Day is a unique occasion that happens once a year, allowing you to show your mom how much you value her.
It's a day we celebrate and appreciate women worldwide. From sentimental messages to gifts, there's something for everyone to gift their mother.
This piece will cover unique gifts you can present to her on Mother's Day to make her feel appreciated.
1. Matching Sister Yin Yang Name Necklaces Set of 2
If you're looking for a special gift to present to her on Mother's Day, look no further than the matching sister-yin-yang name necklace set of 2. This fantastic necklace allows you to pick the birthstone for a customized piece.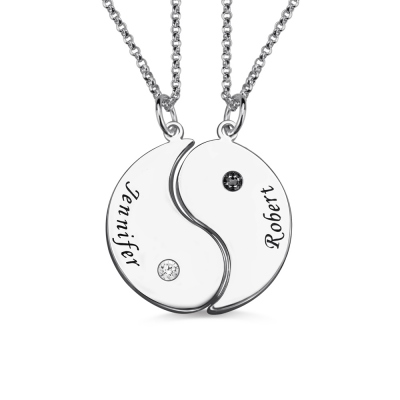 Moreover, it comes in sterling silver as the perfect Mother's Day gift. So get the special lady in your life this fantastic gift and make her feel appreciated for contributing to your life and society.
2. Custom "My Sister, My Friend" Birthstone Necklace In Rose Gold
You can always go right by gifting the custom rose gold birthstone necklace on Mother's Day.
This is perfect if you have a sister who has recently become a mother, and you must show her how much you appreciate and care for her.
My sister writing on it makes it more personalized, as you can also attach a note expressing just how much she means to you.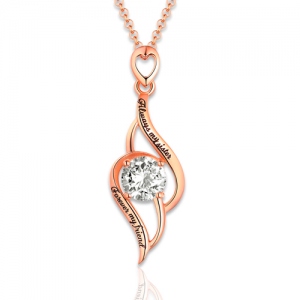 3. Heart Engraved Mom & Son Picture Necklace
Women celebrating Mother's Day will enjoy having the heart engraved mom and son picture necklace, which can be personalized on the front and back.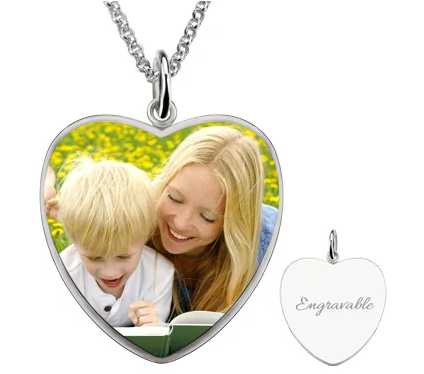 This sterling silver necklace is a fantastic piece that will bring back old memories once you attach a picture of yourself and your mom to make her cherish it for the rest of her life.
You also get to pick the font that allows you to be more creative with your selection.
4. First Mother's Day Mom and Baby Set
You can make Mother's Day a special occasion by gifting the first mothers Day mom and baby set to make it memorable.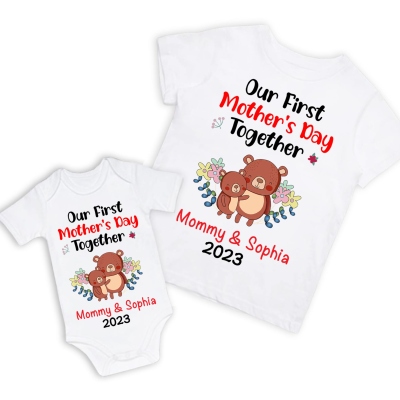 Nothing is more adorable than giving a mother a matching t-shirt with their newborn helping her celebrate her first Mother's Day. It's made of soft cotton to make it more comfortable for the mother and baby to wear them.
Also, it comes in numerous sizes to fit all body shapes and personalities. So make Mother's Day special with this incredible gift.
5. Custom Birthstone Necklace
The custom birthstone necklace is a particular way to mark mothers Day. It comes in brass or sterling and has a multi-rectangular birthstone to make Mother's Day a great one.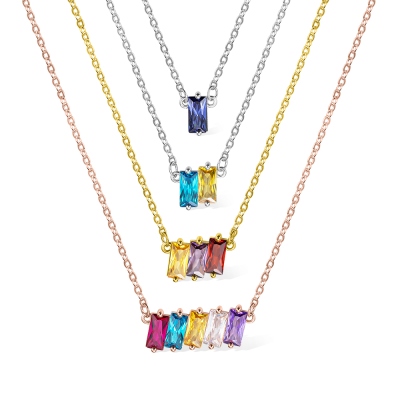 This unique necklace will match all her favorite outfits, be styled for any occasion, and still make her stand out.
It has an eye-catching pattern that will make her cherish the gift for years. On top of that, it's a durable and affordable gift that will serve her for decades.
6. Infinity Family Names Circle Necklace
Sometimes the best way to prove that you care about the woman in your life is by gifting her the infinity family names circle necklace to mark the special occasion. Women love thoughtful gifts that deeply define how you appreciate your connection.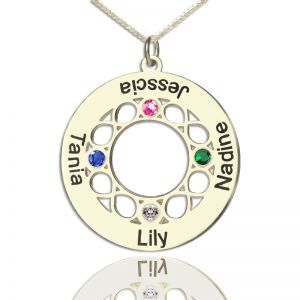 Additionally, you want to avoid issuing gifts many people offer on a beautiful day, so you have to offer this gift and make her feel appreciated and loved.
7. Personalized Beech Wood Recipe Box
If the woman in your life enjoys cooking, then nothing will make her happier than the personalized beech wood recipe box.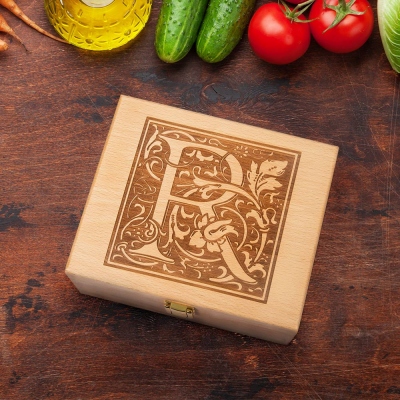 Its unique pastoral design makes it stand out, increasing its general outlook. The box is designed to hold tiny kitchen items for extra safety. Moreover, it allows you to select a letter you need on the top to customize it to her needs.
While it offers a great feature, it's stylish without breaking the bank. So send this thoughtful gift with a special note to make her smile.
8. Feet Charms for Mom with Baby's Name and Birth Date
We all know that mothers cherish their kid's dearly. So what better way to respect their values and desire than gifting them the feet charms for mom with baby's name and birth date? It will make her feel like a great and memorable parent.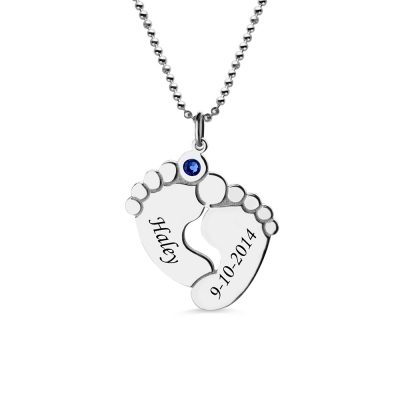 It's a great piece with numerous birthstone options to select from to make the day special. This silver piece is the best way to appreciate a new mother and make her proud of herself and her beautiful baby.
9. Personalized Name Leaf Ring with Birthstone
If your mom, wife, or grandma appreciates jewelry, the personalized name leaf ring with birthstone is the best and most thoughtful way to celebrate Mother's Day. It's a unique gift that allows you to customize the font for a personalized feel.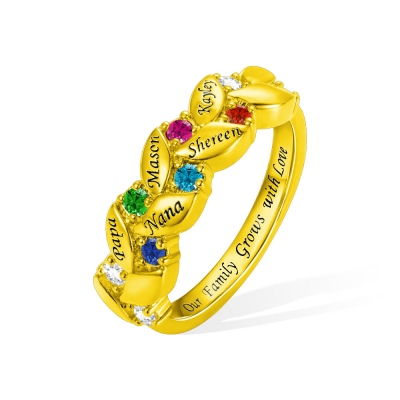 This handcrafted piece can be secured at a reasonable price but stands out from the other gifts she is gifted on her special day.
It's a ring she can style on any occasion without looking weird. So get her this ring so she feels loved and appreciated on her big day.
10. MOM Heart Cage Key Necklace With Birthstones
The platinum-plated MOM heart cage key necklace with birthstones is the best way to show your mother how much you care about her on her special day. This fantastic gift will help you win a special place in her heart and become her favorite.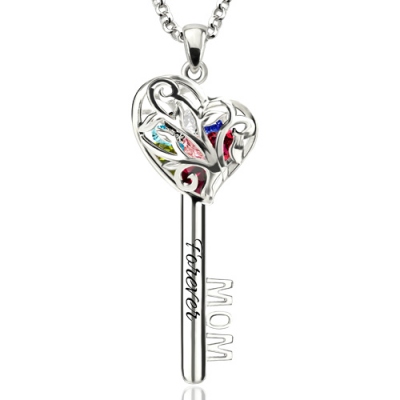 Alternatively, you can select the chain's length and size to ensure it fits the person you're about to get this fantastic piece.
Its fundamental shape that passes through the heart is a unique gift that can be issued in multiple situations to someone you deeply care about.
11. Personalized Leather Watercolor Birth Flower Jewelry Box
Mother's Day is an incredible one that only occurs once every year.
Each year, you must prepare to gift a particular item, and the personalized leather watercolor birth flower jewelry box is the best option for a fantastic day. Its portable case makes it more attractive and a piece that any lady would like.
Its size is ideal for storing it anywhere you want and makes it a superb item you will cherish for years. So get your mother or wife this beautiful item to show how she holds a special place in your heart.
12. Personalized Heart Horse Girl Necklace
If your mom or wife is a huge fan of outdoor activities such as horse racing, you should get her a personalized heart horse girl necklace to light her day on such a fantastic event. 
You can get this piece in rose, black, and silver, which shows its versatility as it can match any outfit you style. Moreover, you can find it in brass and sterling for durability without breaking the bank.
Besides, you want your gift to stand out from the rest and make her feel loved for all the hard work she does daily to be courageous, brave, and compassionate towards you and her kids.
13. Custom Name Birth Flower Keychain
The custom name birth flower keychain is an incredible way to show appreciation and affection to the woman in your life during Mother's Day.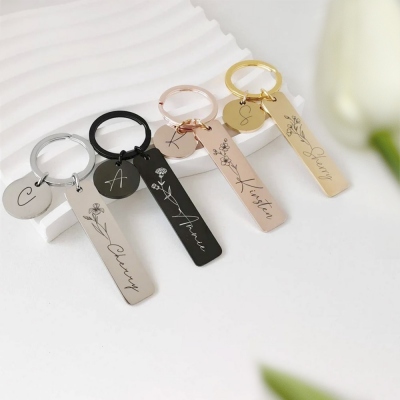 It has numerous keychain colors, such as black and rose to ensure you get the perfect gift matching your style.
You can hang this fantastic piece on your phone case or purse if it fits your style and requirements. Moreover, it is cheap, making it the perfect gift she needs on special occasions when the world celebrates brave and affectionate mothers.
14. Family Tree Floating Locket
It wouldn't be a complete Mother's Day without a unique gift such as the floating family tree locket to add a special touch to her big day.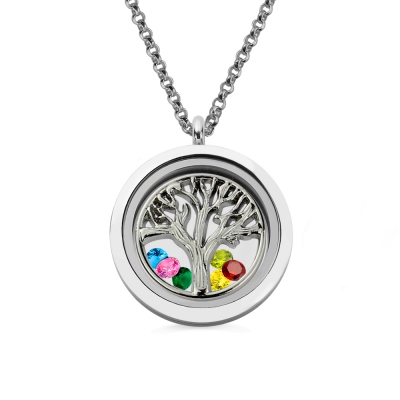 This stainless steel item is the perfect way to make your presence be felt with the ideal and thoughtful gift. It comes with multiple birthstones to pick from and styles, such as a mother's necklace or a name necklace.
Moreover, you also choose the length of the item to ensure it's not too short or too long for the person you're going to gift this incredible piece to. So get her the family tree floating locket and make her day memorable.
15. Engraved Guitar Capo
Gifting an engraved guitar capo is remarkable for showing affection to your wife or mother on her big day. Musical moms will adore this gift as it matches their preferences and what they value in life.
Gifting this shows that you took time to pick the perfect gift, which indicates the length you'd go for her.
You can find this fantastic piece in a golden oak and red chestnut to give you options. It comes with a well-packaged box to make it a memorable gift that she will use for years.
Conclusion
Gifting your mom, wife, grandma, or sister on Mother's Day can be daunting if you need to know the right gifts to go with them. It might be even more complicated if you need the finances to break the bank for an expensive gift. Luckily, this list gives you an option for the best gifts in the market at affordable prices. So get one of these gifts today for a special day to remember.