Mother's Day is wonderful to express our gratitude and affection for our moms. While store-bought presents are convenient, handcrafted gifts are more personal and may express sincere feelings.
To help you, this piece will cover all the nitty gritty you need to know regarding gifts that fit mothers Day. So read on to find out more.
1. Pom-Pom Heart Box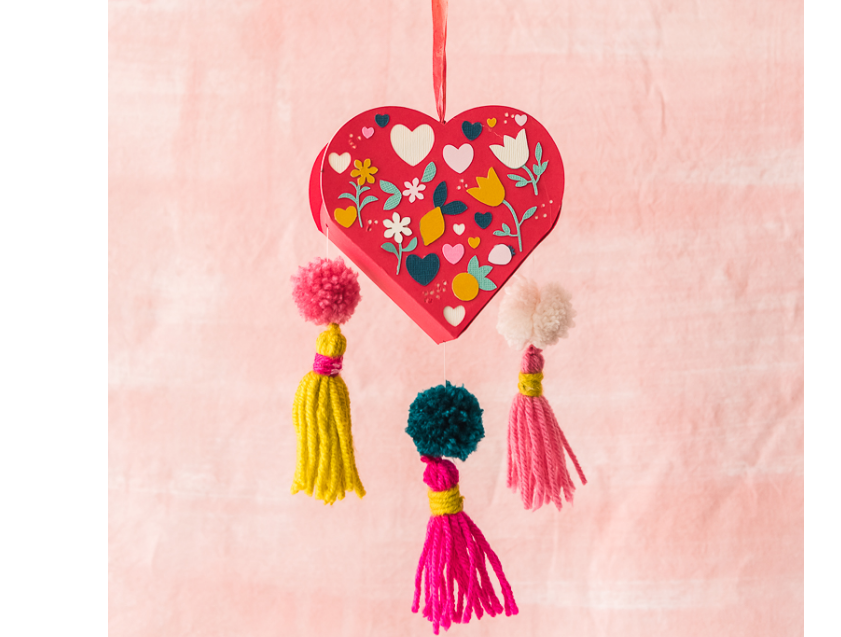 Making a pom-pom heart box is among the best Mother's Day gift ideas. Making this gift will require you to have scissors, cardboard, glue, paint, and pompoms.
Once you have all these items, you'll need to cut the cardboard in a heart shape ensuring that one side is a little bigger than the other.
Now you'll need to attach the hearts using glue, leaving only space for a box. Now pick up your mom's favorite color and paint the box to make it appealing as you style it using pompoms.
2. Farmhouse Love Sign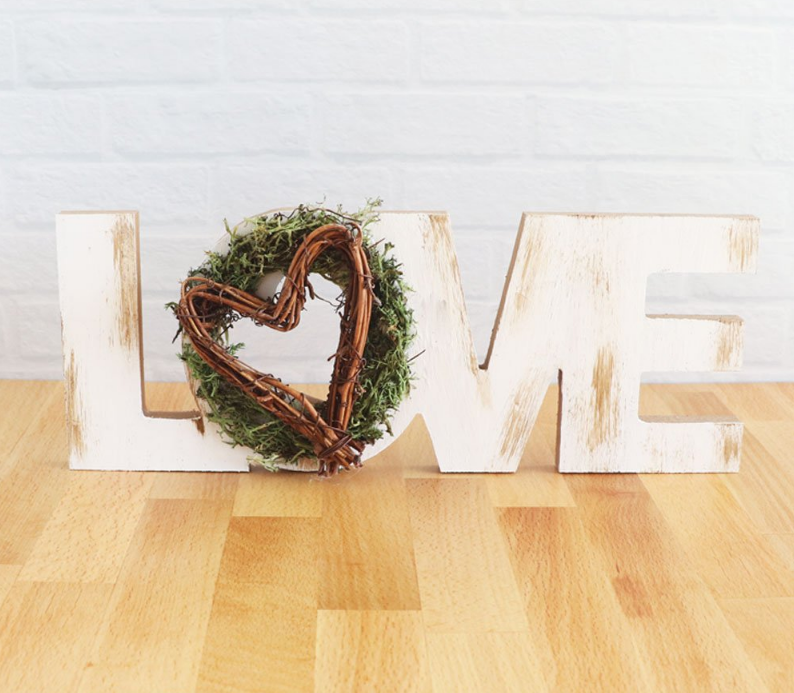 If you're looking for a DIY gift to make your mother smile, the best way is the farmhouse love sign.
This fantastic piece will surely blow your mother's mind away. You'll only need a pencil, wooden board, paint, ribbon, or flowers to make an aesthetically looking piece.
You'll first need to paint the board in your mother's favorite color and then add the word love using the pencil you had set aside. Add the flower sign to make it more attractive and meaningful, and gift your mother.
3. Cupcake Liner Flower Card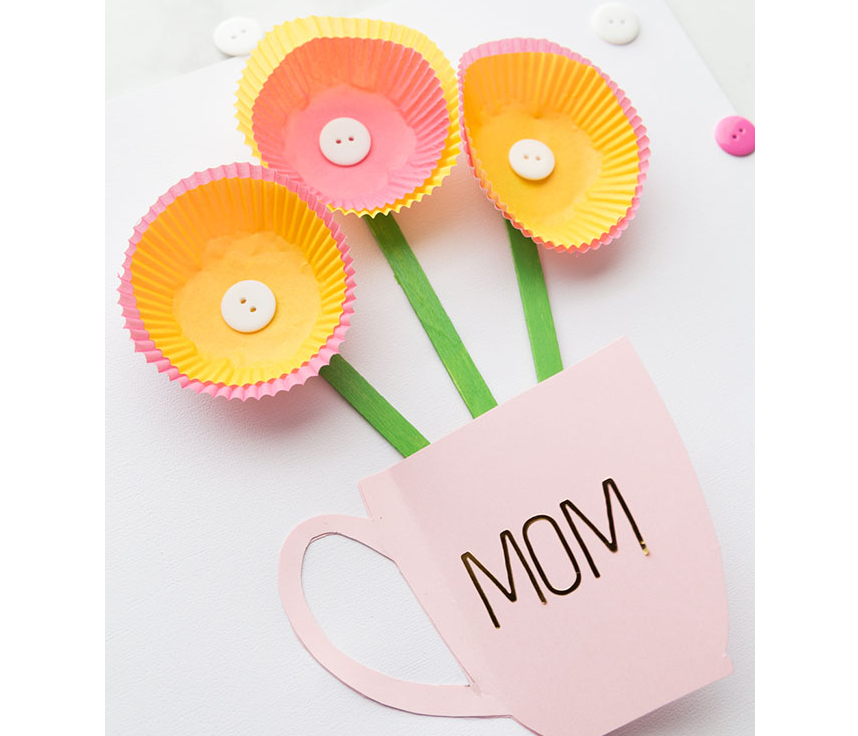 Another great idea for gifting your mother is making the cupcake liner flower card, a first-tier idea for such a fantastic occasion.
You'll need scissors, construction paper, glue, cupcake liners, and markers to make the DIY idea a success.
Next, glue the construction paper into a flower shape and attach it to the card. Use the cupcake to create flower shapes and glue them on the card as you add stems using the marker.
This a superb way of showing your mother that you value her on a fantastic day.
4. Floating Glitter Tumbler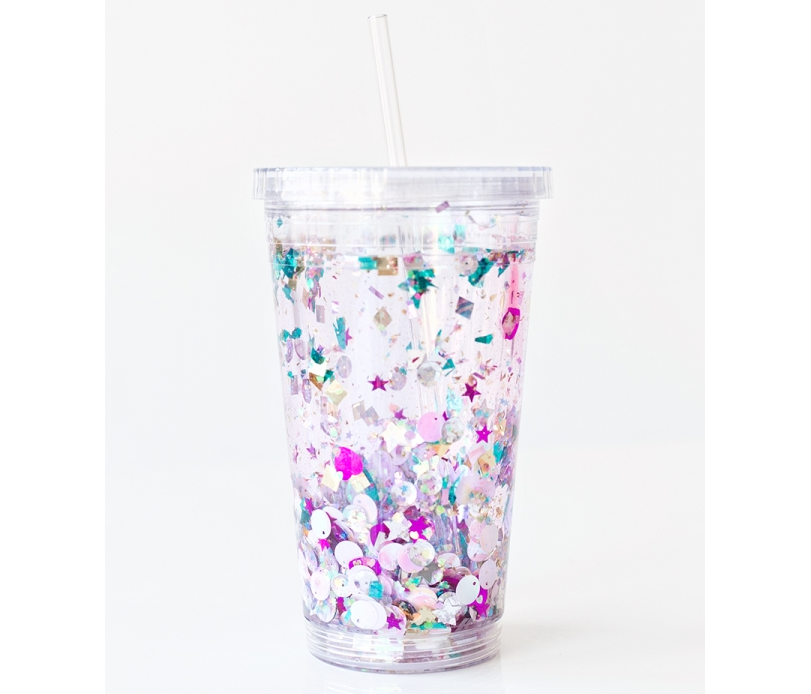 The floating glitter tumbler is a superb idea for Mother's Day you should try to make your mother smile. You can use this idea for a morning or evening coffee which is a thoughtful gift if your mom likes coffee.
You'll only need mod podge, tumbler, and glitter to make this process a success.
You'll have to mix the mod podge with the clitter and place it in the tumbler while waiting to dry. Once that is complete, she'll have an exciting tumbler for tea and coffee.
5. Printed Tulip Napkins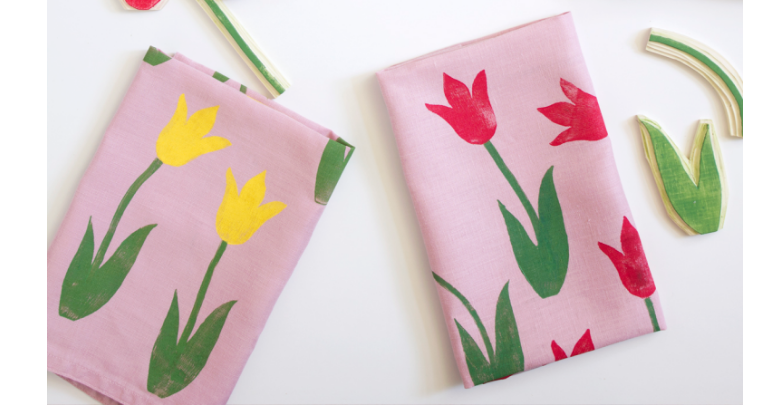 The printed tulip napkins are also an impressive way to mark mothers Day, especially during summer and spring. You will require napkins, tulip pencils, fabric paint, and a foam brush to succeed.
Place the stencil keenly onto the napkin and use the foam brush to dab the fabric paint onto the stencil.
After completing this process, you'll need to let it dry before you can present the gift to your mother on her fantastic day. This is a unique way of showing your mother how much you care about her.
6. Glitter Tassel Earrings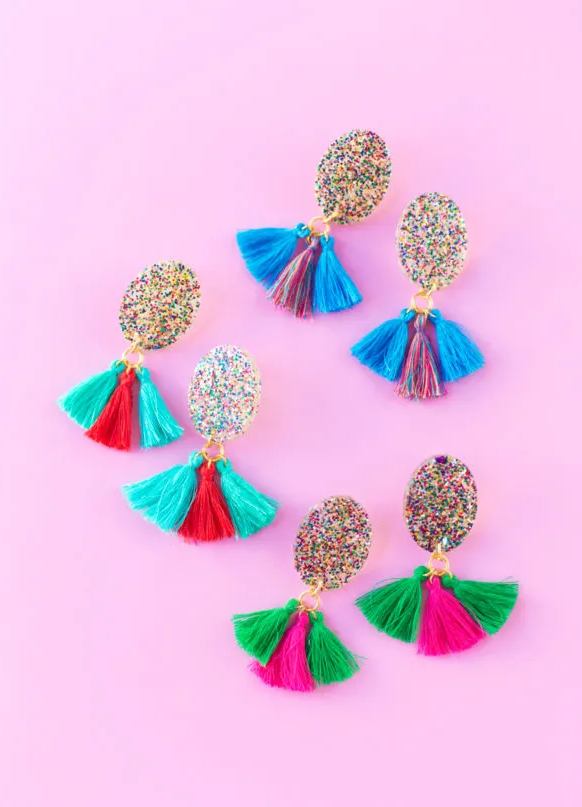 If your mother is a jewelry enthusiast, the glitter tassel earrings are the best gift idea you could make.
The idea will require you to have items such as jump rings, tassels, glitter, and earring hooks to make the most beautiful piece. Add glue to the tassel, put it in the glitter section, and ensure it's well coated.
Give it time to dry, then add the earrings hook using the jump ring to make the most amazing earrings.
7. Handkerchief Wreath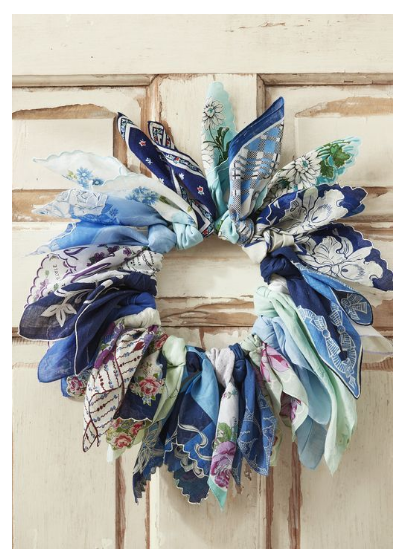 If you're looking for a simple gift yet aesthetically pleasing, look no further than the handkerchief wreath, as it's a fantastic piece she can use for years.
You'll require a ribbon, wreath frames, and handkerchiefs to make this gift. Once that is sorted, you must attach the wireframe to the handkerchief by mixing and matching colors and patterns to make it unique.
8. Mason Jar Candle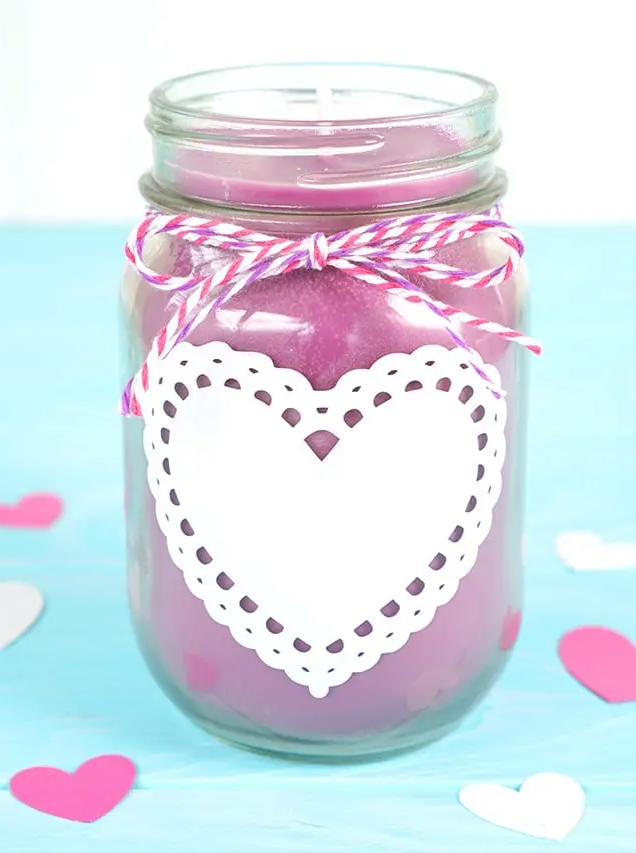 The mason jar candle is another superb gift you can create for your mother on Mother's Day to make her feel appreciated.
You'll need soy wax, a mason jar, essential oil, and a candle wick to facilitate the process. Next, you'll have to ensure the soy wax is completely melted, then add the essential oil for the fragrance to make it more appealing.
Now add the candle wick to the mason jar and add the wax mixture into the jar. Once the solution has dried, then you will have completed the process.
9. Entryway Hub
The entryway hub is your best bet if you're looking for a practical gift to make your mother smile. This gift will require you to get hooks, a wooden board, paint, and a basket, and you'll be ready to start.
Once you have gathered this item, attach the hooks after painting the board. After that, you'll need to add the baskets to hold mail, keys, and other essential things you might need to use.
This is an ideal gift for a mom who is an organization enthusiast to make her feel loved and appreciated on her big day.
10. Bubble Candles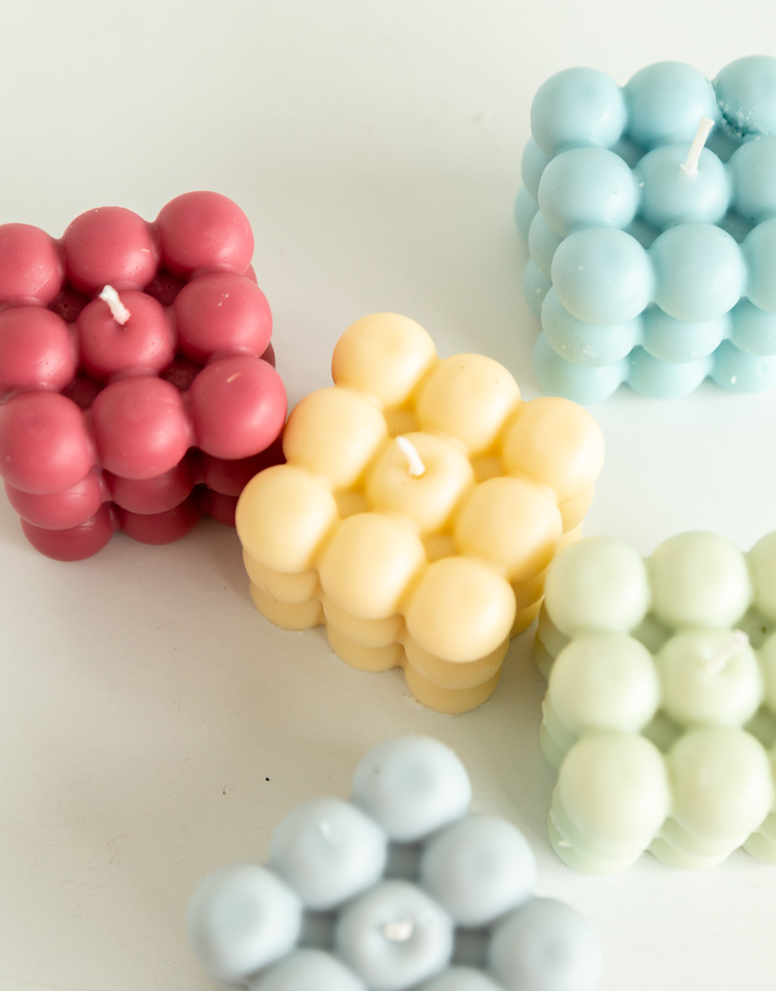 Making a bubble candle is another fun and exciting way to mark Mother's Day. This fantastic gift will require wax flakes, bubble solution, and a clear jar to complete the process.
Moreover, it has a simple process that requires you to melt the wax and then includes the bubble solution as you mix it well. Now incorporate the candle jar, then pour the wax mixture over it to make it look appealing.
11. Lip Scrub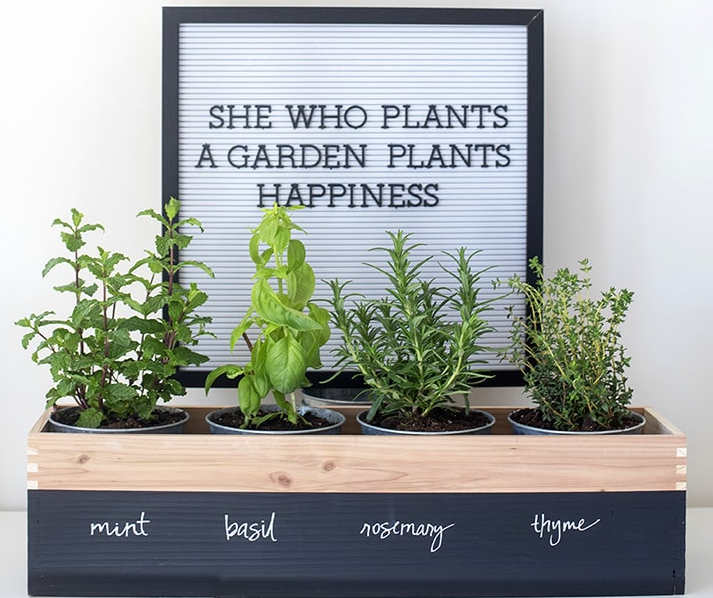 If you're looking for a great homemade gift for your mother on her special day, then the lip scrub is the best idea you should implement.
Users will need essential oils, sugar, and coconut oil to complete the process. The essential oil will be mainly used for fragrance once the considerable part has been done.
This is a fantastic gift your mother will appreciate and feel like her contributions to your life are appreciated.
12. Temporary Tattoo Mugs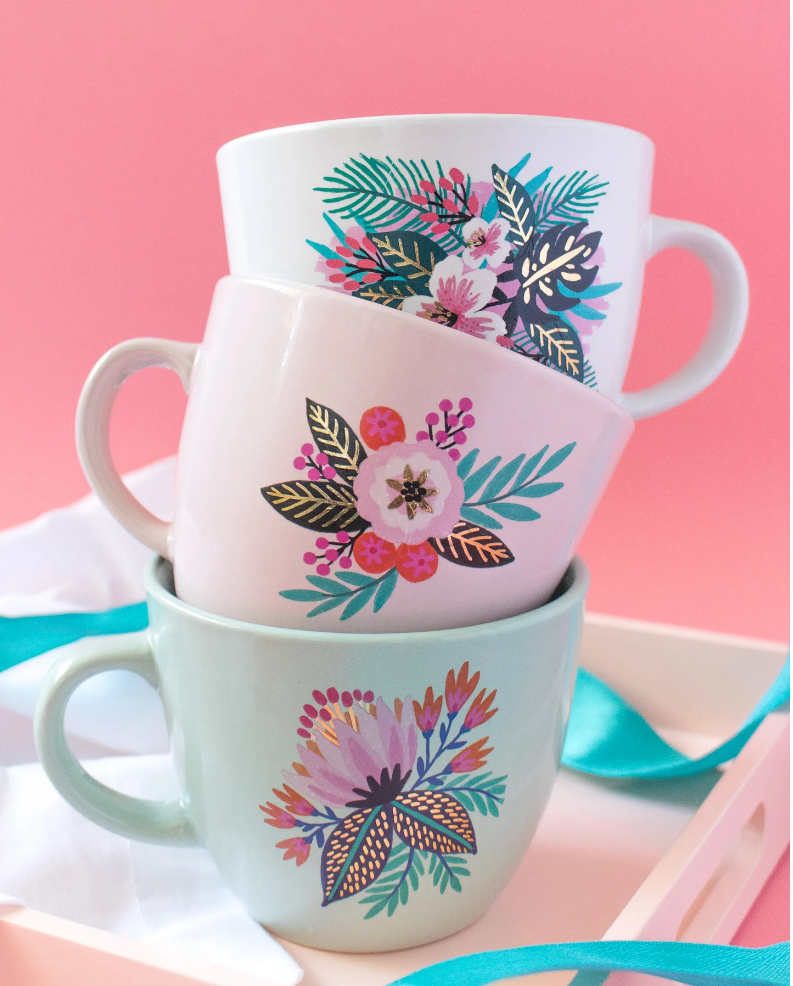 Make your mother feel special with the temporary tattoo mugs that you can make using a few items such as temporary tattoos, sealing spray, and white mugs to allow you to customize them.
You'll only need to apply the temporary tattoo on the white mug and let it dry before you can present it to your mother as a mothers Day gift which she will appreciate. Moreover, you can do this without breaking the bank.
13. Tea Towel Apron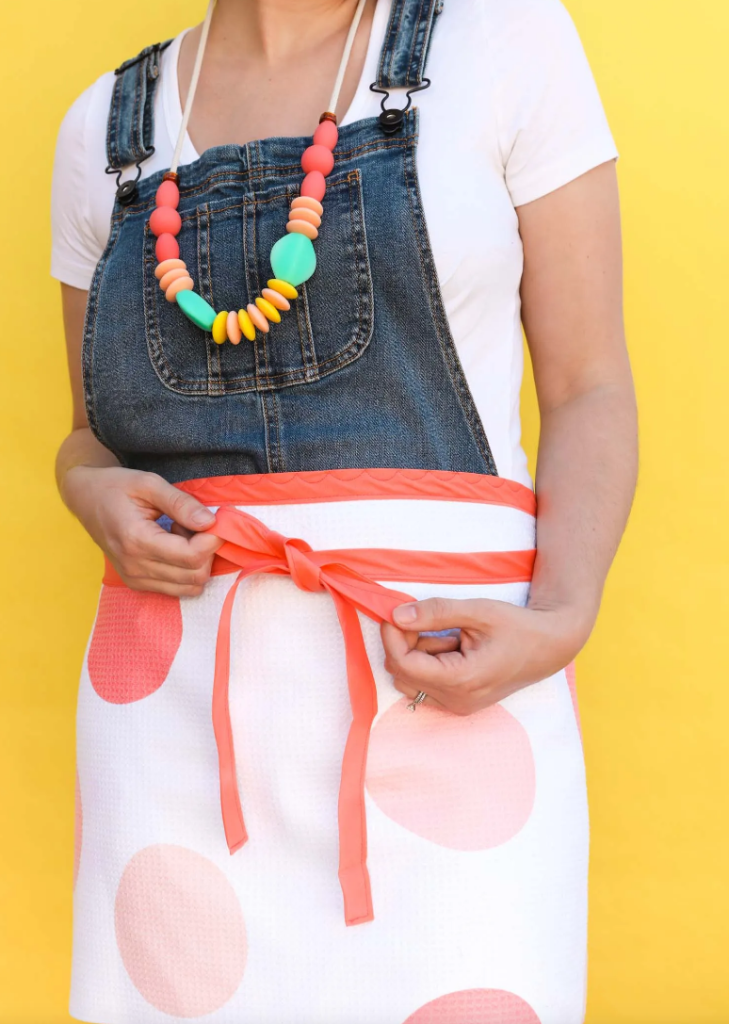 The tea towel apron is another fantastic way to show your mother that she is special by gifting her this item.
To make this item, you'll need a sewing machine, ribbon, and a tea towel to wrap up the process. You'll need to fold the towel as you sew to create the perfect tea towel apron your mother will appreciate.
14. Trophy Bouquet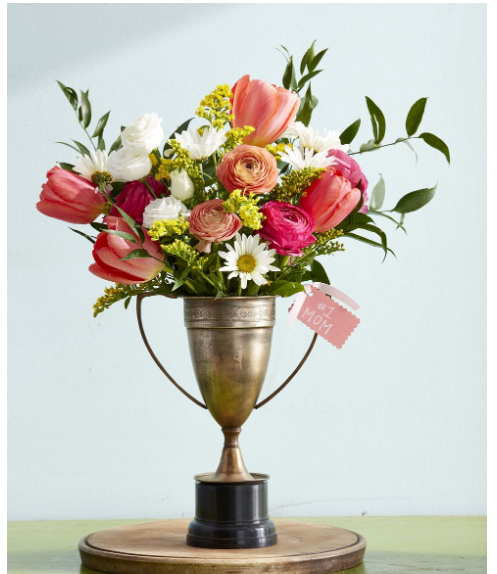 Sometimes you don't need to break the bank to make your mother feel loved on Mother's Day. You only need to get creative and make items such as a trophy bouquet, a timeless piece she will have for years.
This idea will require artificial flowers, floral foam, a trophy, and wire cutters to ensure you successfully nail the process. So surprise your mother with this gift to make her feel appreciated for her daily contributions.
15. Herb Garden Planter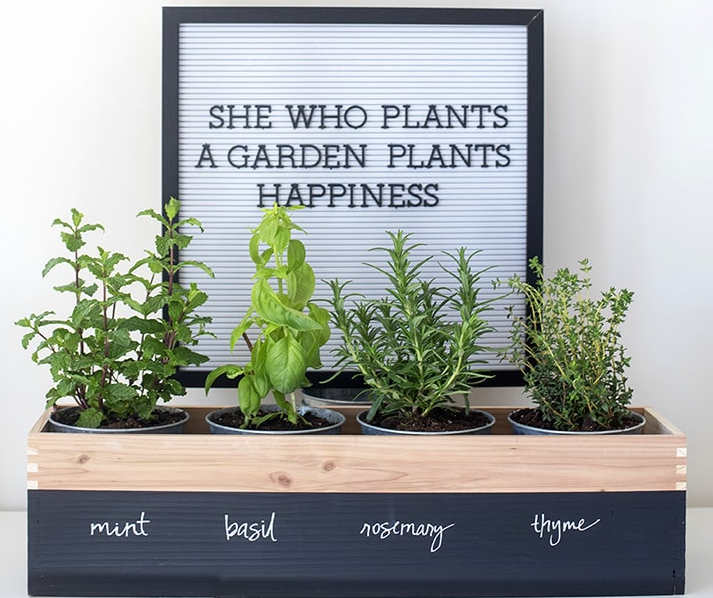 Gifts don't get better than the herb garden planter if your mother is a gardening enthusiast.
This gift will prove that you pay attention to your mother's interest, making her feel appreciated for her contributions to your life.
You'll only need soil, herbs, and a planter box to have the herb garden planter ready for use.
16. Photo Coasters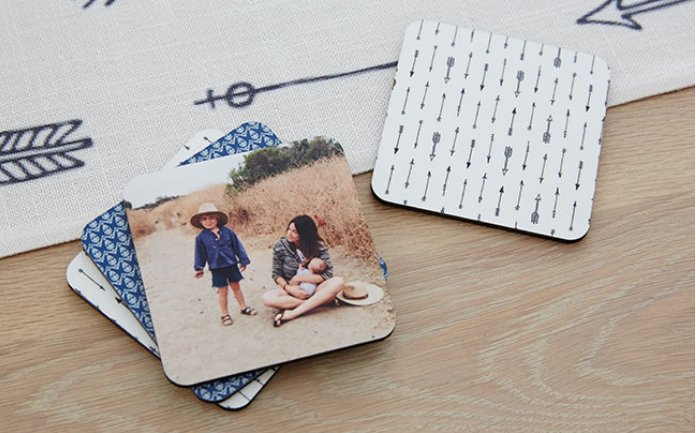 Think out of the box and present the photo coasters to your mother on Mother's Day to make her feel appreciated for her daily efforts.
You will need a mod podge, sealing spray, and a family photo to make this gift timeless. This will be a better expression of love than getting her an expensive gift without significant meaning.
17. Outdoor Throw Pillows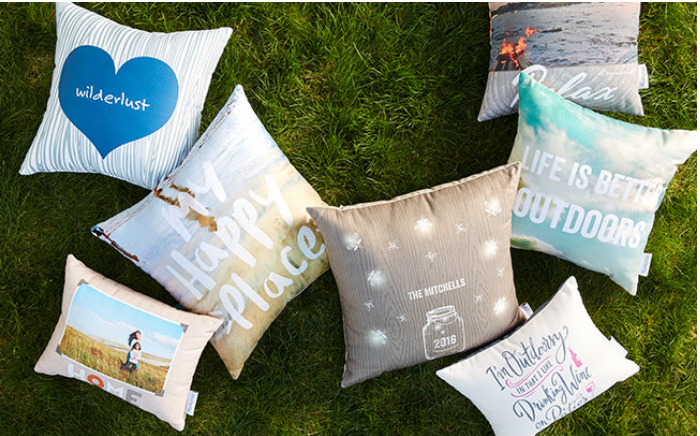 Get creative and get your mother the outdoor throw pillows to mark a particular day. This is a timeless idea that will not cost you much to complete.
You'll only need a sewing machine, outdoor fabric, and pillow forms to nail the process. Insert the cushion shape inside the cover and stitch the last side shut.
Your mother will receive a set of lovely and long-lasting toss cushions for her patio or deck.
18. Photo Tile Wall Art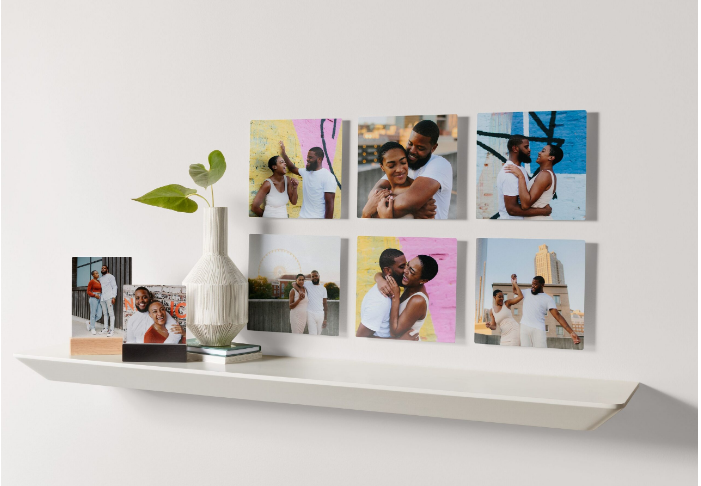 This do-it-yourself present is a collection of customized and trendy wall art created from family pictures.
Square tiles, family pictures, Mod Podge, and fixing strips are required. Cut the photographs to suit the tiles and adhere them using Mod Podge.
Attach fastening strips to the back of the tiles and put them on the wall after the Mod Podge has dried. Your mum will have a lovely and one-of-a-kind piece of wall art to show in her house.
19. Recipe Photo Book
This homemade present is a heartfelt recipe book with family recipes and images. A blank picture book, family recipes, and family photographs are required.
Print the recipes and pictures and arrange them in the photo book creatively and imaginatively. Your mother will have a lovely and meaningful recipe book to treasure and use for many years.
Conclusion
Making a simple gift for Mother's Day can be a thoughtful way to show your love and appreciation for the particular person in your life. The Wooden Guitar Picks Set of 3 with a Storage Case and the Personalized Couple Photo Candlestick are two excellent DIY gift ideas that are both unique and practical.