Christmas is a time for family, friends, and festive celebrations. It's also a time for funny quotes and jokes about Santa Claus' reindeer! From Rudolph to Dancer, every reindeer has a unique personality that can be captured in short, cheerful sayings.
If you want to add Christmas cheer or make a few holidays laughs, here are some of the funniest reindeer quotes. So read on and enjoy! This year, you may find a new favorite Christmas quote to share with your loved ones.
Reindeer Festive Quotes for Kids
The festive season is a time of joy; kids love to hear funny reindeer quotes. Moreover, these quotes can inspire them to be creative and have fun with their imaginations. Christmas is a magical time for children, and these quotes will surely bring a smile to their faces.
"Rudolph, the red-nosed reindeer, had a very shiny nose, and if you ever saw it, you would even say it glows!"
"Dasher loves to dash through the snow so quickly! He's the first reindeer that Santa calls on Christmas night."
"Prancer brings joy and a bit of dancing as he skips and jumps around the Christmas tree."
"Vixen loves twinkling stars and gazing at the night sky. She often looks up to see if Santa is coming soon!"
"Comet loves playing in the snow and making snow angels in the winter wonderland."
"Dancer loves to show off his fancy moves when flying through the night sky!"
"Cupid was born with a heart of gold, so no matter where he goes, love is sure to follow!"
"Donner was brave and courageous, always ready to lead the pack on Christmas Eve!"
"Blitzen's hooves left a trail of glitter in the sky as he raced through the night with Santa Claus."
"And last but not least, we can't forget about Rudolph! His big red nose brought smiles of joy to all of Santa's helpers!"
These funny reindeer quotes will help spread Christmas cheer! Share them with your friends and family this season, and don't forget to wish everyone a merry Christmas.
Sleigh Reindeer Quotes
Sometimes, you need a funny quote to make you laugh! That's why sleigh reindeer quotes are perfect for Christmas. These festive sayings will bring out the kid in everyone and add some laughter to your holiday season.
"Rudolph, with your nose so bright, won't you guide my sleigh tonight?"
"Dasher, Dancer, Prancer, and Vixen. Santa's reindeer were born to fly in the wind!"
"Comet and Cupid are always ready to take flight on Christmas Eve night."
"Donner and Blitzen pulled Santa's sleigh through rain, snow, fog, and light!"
"Rudolph led the way with a twinkle of his nose; Santa was sure to check off everyone on his list this year!"
"Vixen said, 'Let's go!' while prancing through the snow. She knew they had presents to deliver by morning light."
"When Santa was done, the reindeer flew back home in the sky so brightly."
"Thanks to Rudolph's red nose, Santa knows that Christmas comes only once a year!"
"Dancers and Prancer are always ready for a jolly ride with Santa Claus!"
"Cupid and Comet were not far behind, laughing and singing with joy on their minds."
These sleigh reindeer quotes are sure to bring a smile to your face! They're great for sharing with friends and family during the festive season.
Rudolph Reindeer Funny Quotes
More often than not, Rudolph's famous red nose is the star of reindeer jokes and quotes. From his shiny nose to being Santa's biggest helper each Christmas Eve, here are some of the most hilarious Rudolph Reindeer funny quotes:
"There once was a reindeer named Rudolph, who laughed and played without worry or care. His big red nose helped guide the way, so there was no doubt Santa would get there!"
"Rudolph's bright red nose could be seen from miles around! With it, Santa had no problem finding his way to every house in town."
"All the other reindeer teased Rudolph for his shiny red nose. But little did they know that it would help guide Santa to their homes!"
"Rudolph was the hero of Christmas Eve! He had an extraordinary job and made sure Santa arrived in time for presents to be given."
"What if Rudolph's red nose hadn't glowed? Santa's list would have been much slower to go!"
"Rudolph's big red nose was the best Christmas gift of all! It helped jolly old Saint Nick make sure presents were delivered in time for the holiday ball."
"No one thought Rudolph could do it, but he proved them wrong. His famous red nose shone brightly, and Santa was able to finish in time before dawn!"
These Rudolph Reindeer funny quotes will surely bring a smile to your face this holiday season. Share them with your family and friends for some extra Christmas cheer!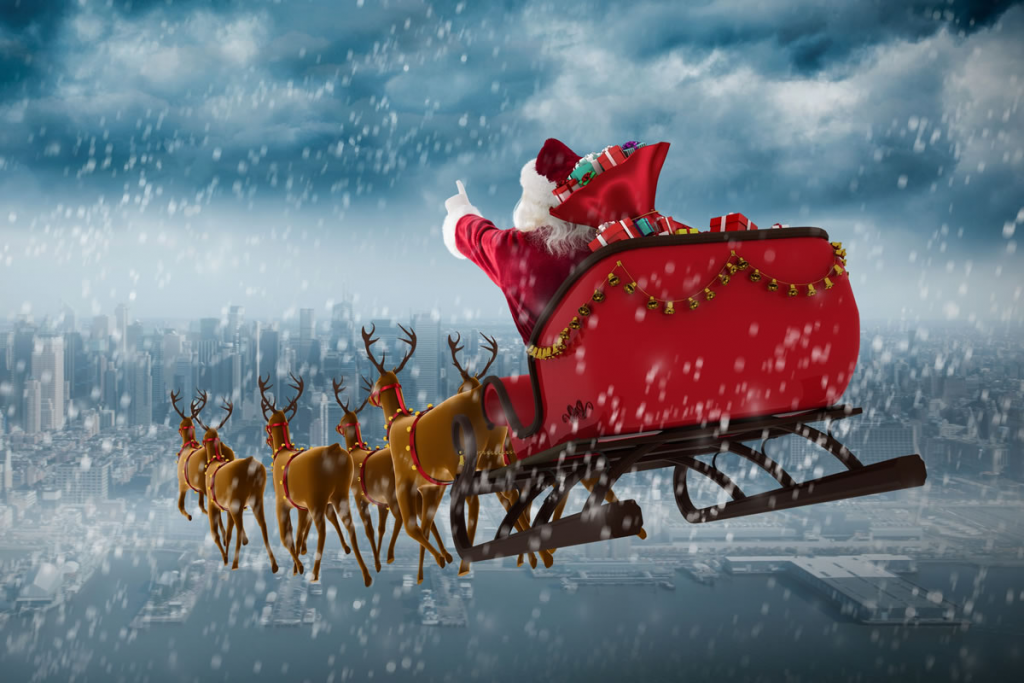 Reindeer Santa Claus Quotes
Children of all ages have loved Santa Claus and his reindeer for centuries. This Reindeer Santa Claus quotes will make you laugh and remind you of the joys of the holiday season.
"It was Christmas Eve, and Santa's trusty team of reindeer was ready to go!"
"Santa shouted, 'Giddy up!' and the reindeer flew through the night sky with a sleigh full of presents for all."
"Santa was proud of his trusty team! He'd been relying on them for years, and this night was no different."
"The reindeer were excited to help Santa deliver all his presents! They zipped through the night sky with a twinkle in their eyes."
"Santa said, 'Ho ho ho!' as he watched his team of reindeer fly. He was so grateful for all their hard work and thankful that Christmas Day would soon arrive."
"Rudolph's red nose shone brighter than ever! He guided the other reindeer and made sure Santa was on time."
"Dasher, Vixen, Prancer, Dancer, Comet, and Cupid – they pulled Santa's sleigh through snow and rain all night until Christmas day came again!"
"Santa thanked his team of reindeer, for he'd be lost without them. With their help and Rudolph's bright nose, every child would receive a gift!"
Conclusion
The reindeer quotes featured in this article will surely bring a smile to your face this holiday season. Whether they're funny, inspirational, or just plain heartwarming, these words will remind us of the joy that comes with Christmas.