Are you missing a spark in your relationship? You need some impressive flirty quotes to generate this spark. Flirty quotes are best to show someone your interest in them. You can also write a flirty message to your significant other and add a fresh spicy touch to your relationship.
Here are some flirty quotes for him and her that will add a wonderful flavor to your love life. Continue reading to find the best flirty quote for your partner or crush!
Flirty quotes for her
A day without you is just like a day without sunshine.
Whenever I want to smile, I close my eyes and start thinking about you!
You are my biggest dream!
You are not mine. Still, I fear losing you. Isn't it called love?
I wish you were a bullet. I could have you in me by simply shooting myself!
Your smile is prettier than the stars, babe!
I want to be the mirror in your room so that you will look at me every morning!
Good night and sweet dreams…I hope I am in your dreams to make them sweet!
Can I be the teddy bear that you hug so tightly?
I want you to be my nothing because of the proverb: Nothing lasts forever!
I want to meet your parents and appreciate their baking skills. After all, they made such a cutie pie!
I want to sleep, but my brain cannot stop thinking about you.
Handling dinner alone is not easy. Baby, can you help me?
They say nothing is impossible. But for me, taking you out of my head is impossible!
My heart is a rent-free place for you. Please come and live in it!
I am not getting flirty with you. I have seen a super-attractive girl, and I want to be super friendly with her!
Every woman deserves a gentleman who loves and respects her. I am also a gentleman. Let me love you for a lifetime!
Let's do the toss. Heads claim that you will be mine. Tails mean I will be yours!
Stop looking for a perfect life partner because you have finally found me!
My heart skipped a beat when you sat next to me, and I forgot to breathe!
You were looking stunning today. I know I didn't see you, but you look fantastic every day!
Sorry, but you found the place in my fishy and inappropriate thoughts.
It's hard not to stare at you!
I have decided 2 say 3 words 4 you: I love you! Give me a high 5!
I want to take you out of my head because you should be in my arms now.
Making you smile is my favorite thing!
I like hot things like tea, coffee, or you!
I love the connection between us. Stay connected!
Your immeasurable beauty makes romance effortless for me!
Thinking about you is my favorite task. I do it whether I am free or busy!
I met and fell for you the very first moment I saw you.
My hollow heart is empty. Can you please stay in it to make it lively?
My soul feels dizzy every time it looks at you. Is it love?
Let's make a deal. I will dream about you, and you will dream of me until we are together. Done?
What to do with history when we have perfect chemistry?
How can such a pretty girl still be single? Let's mingle, my gorgeousness!
It's completely ok if you had a bad day. I assure you will have a wonderful night!
I feel I need to break some rules when I am with you.
I think I will die now because I have seen a beautiful angel in front of me!
Can you do anything without looking so beautiful? I think you can't!
The way you turned me on urges me to think as if I am a light bulb!
Thanks for introducing me to the reason why people smile for no reason!
This text lets you know that this person is jealous of everyone you will be meeting today.
I want to do your homework, so you will make sure to spend some time with me every evening!
Oops! My mobile number is lost. Can I get yours?
You make me feel what the unfulfilled cravings are!
I wish you were a gift, and my arms were a gift paper. I would wrap you in my arms forever!
Thank God I am a man, so I admire your beauty. I would be so jealous of you if I were a woman!
Your pretty face is so familiar to me. I think I have seen it in my dreams.
Isn't it a crime to look that damn pretty?
I want to give up sugar for life. Can you help me? You are so sweet, babe. Come into my life, and there will be no need for anything sweeter!
Please give me a map. I am lost the day I looked into your beautiful ocean eyes, and I have no way out.
Was it the Sun that came out or your smile?
What do you do besides looking beautiful all day?
You are the book I want to read all the time!
Your shadow is the world's second most beautiful thing in the universe. The first one is you!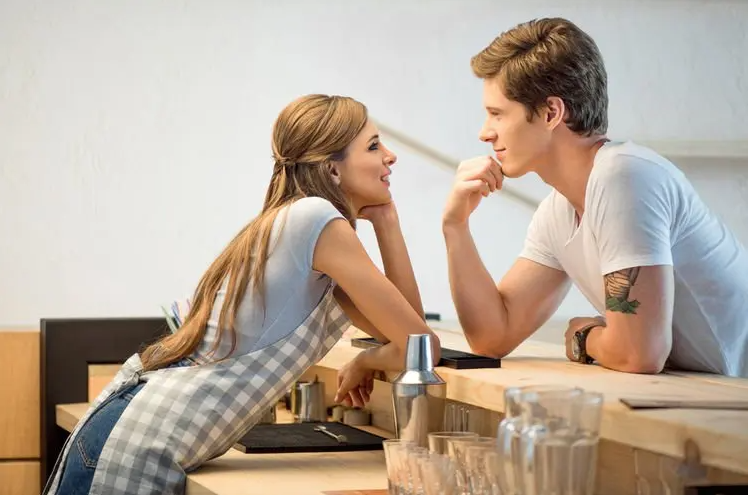 Flirty quotes for him
You are awesome. I thought you should know this fact about yourself!
Let's celebrate! I finally found that special one I was looking for. It's you! Will you join me at the celebration?
Thanks for giving me a smile I am still wearing!
You make me charged for the whole day. This is why I want you more than my morning coffee!
When I am with you, I feel like a princess. I got a vibe that you are my prince!
Eye contact is dangerous, but lovely!
I want to be the reason you smile while reading a text on your phone.
Do you want to know who the most handsome man I have ever seen is? Reread the second word to find out the answer!
You should know how much I admire you!
I think you are my google because you have all I am searching for.
I sense a forever tangling between your soul and mine!
Better together fits us the best. Isn't it?
You are as vital to me as a beat is to one's heart.
Loving you is my necessity, not an option!
Hi stranger! Stop acting like a stranger because we strongly need to know each other!
Any plans for the weekend? Asking because I don't have any!
I had a dream last night, and you were in it. To know the details, you will have to meet me.
How about giving each other a cozy vibe tonight and watching a movie together?
You are my major distraction at work.
I was listening to a lovely song, and the lyrics perfectly narrated our relationship.
I want to skip this friendly talk. Let's go straight to the point. I love you so much, and I know you love me too. Right?
Reply to me, honestly. You have been waiting for my text for so long. Right?
You are my missing piece. Thank God, I found it!
The way you make me feel important is the best thing about you.
All my friends told me I am the luckiest because I have a guy like you in my life!
Does love at first sight make sense to you, or should I come in front of you again and again?
I am single. I thought I should let you know!
I wonder about your existence. How can such a wonderful man exist in real life?
Stop texting me! It's time to meet and look into each other's eyes.
When the room is full of people, I look for you!
You are pretty cool, man!
You will think I am lying, but you are my dream man, my prince charming!
I can't believe I have a man in my life who is intelligent, attractive, and funny!
No one is perfect, but you are pretty close to achieving perfection!
I fell for you, just like the leaves fell from the tree in autumn.
Listen! You should take some rest. You must be tired because you were running through my mind all day!
There are so many roads to travel. But I will always take the one that leads me to you!
Your text popping up on my phone is my favorite notification.
What I feel with you I don't want to feel with anyone else. Can you name this feeling?
Conclusion
It's finally the time to make a move and send a great flirty quote to your crush. Show your interest using the appropriate words, and you will receive a positive response. You can make this quote even more impactful by sending a beautiful gift to your crush. Consider getnamenecklace for buying a beautiful, personalized gift for your special one!