We often neglect the typical grandmothers' love. The same love you feel in the pies she makes or the cookies she bakes.
If you pay a little bit of attention, you'll discover that she has always been there. By your mother's side, always taking care of you. So, why not surprise her this mother's day with a wonderful gift?
All around the world, the relationship between grandmothers and grandchildren is known to be the sweetest and most caring. Regardless of their age, these mothers of our parents take care of our happiness and ensure to give us everything we ever desire.
Therefore, we decided to create a quick guide that revolves around mother's day gift ideas for grandma so that you can choose a perfect gift for her, easily.
So, without further delay, let's get going.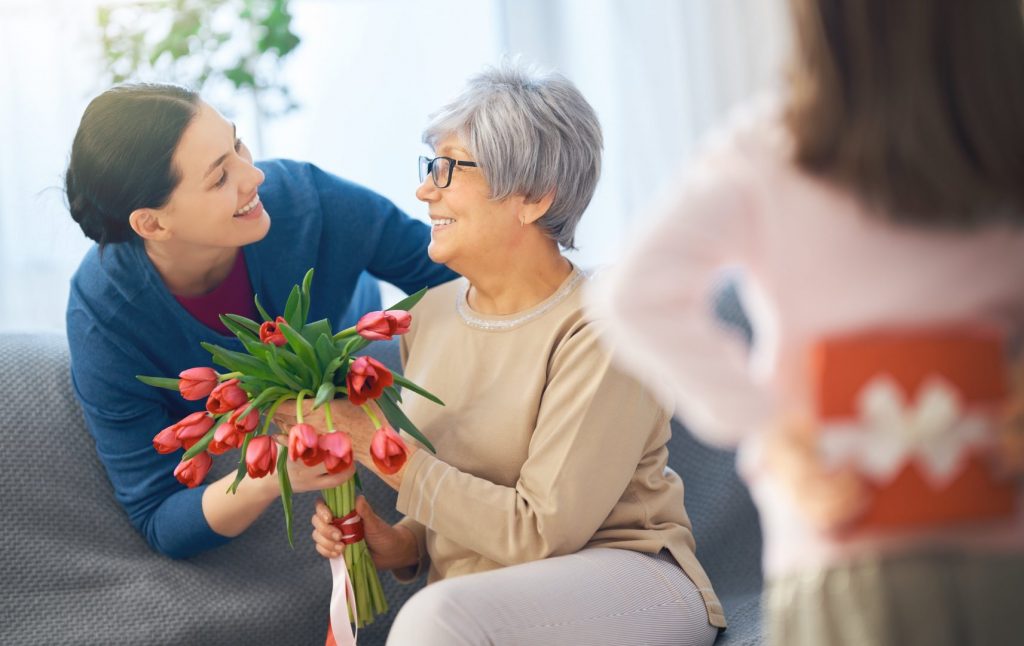 Why Is It a Good Idea to Celebrate Mother's Day with Grandmothers?
Before we move forward to the gifts, it is important to address the thought behind mother's day and why it is a good idea to include grandmothers too in the celebrations.
Consider the life of a grandmother. She has raised her children and now they are adults and have their own families and children. Would she stop showering her unconditional love on the family? Well, NO!
As it is said, there is no end when it comes to motherhood. She'll continue to look after her children's children. And this is exactly what makes these precious souls important to be included in the mother's day celebration.
Every mother around the globe deserves to be appreciated and praised on this day for the efforts she put in to make their children or grandchildren have a peaceful life.
So, this year, give your grandmother something unique to show her how much she's loved and cherished. It does not matter whether it's your grandmother or your child's grandmother.
Ahead in the article, you will find some of the greatest Mother's Day gift ideas for grandma that are guaranteed to make her happy.
Here Are Some Amazing Mother's Day Gift Ideas for Grandmothers
A Tree of Love and Care
Can't decide where to get a perfect gift for your grandma? Don't worry, we have got your back. Since grandmothers are not much in worldly activities, it is a great idea to arrange a simple dinner or lunch at her place. And while she's busy making the yummiest food, you can surprise her with our best-selling Personalized 1-9 Names Family Tree Necklace. The best thing about this necklace is that it comes in various materials. Allowing you to choose the one that is most preferred by her. It has a beautiful tree design that represents family and her ever-growing love for her grandchildren. Also, you get a chance to engrave up to 9 names on it. Amazing!
Why doesn't she love it when she gets a chance to keep the names of her loved ones near her heart?
All the Evil Eyes Off Her
Ever since you were a kid, she has protected you from harm. Be it your first time taking steps or your first ride on the bicycle, she's been there to support you and protect you. So, why not give her something that protects her? At GetNameNecklace, we have Personalized Angel Wings Projection Necklace. It is among the best mother's day picks for grandmothers. The necklace comes in a beautiful design that attracts the eyes of the beholder in just a single go. The unique combination of heart and wings shape makes it something out of the box. The sophisticated chain and the black pearl add to its elegance, making it a must-have for your beautiful grandma. And why wouldn't she be happy when her grandkids love them so much
A Memory That Lasts Forever
The bond between your grandparents is certainly something unexplainable. And we surely understand that. We are confident that your grandma will love Engraved Heart Shape Photo Necklace Stainless Steel. Customized it with a couple-photo of her and grandpa. Not only will this be a gift to cherish but also a memory to keep for many years to come. The necklace has a completely customizable design that allows you to engrave names and initials on the back and a beautiful picture on the front. As for alphabets, you get a chance to select from many font styles according to your preference. The stainless steel and rolo chain makes it a suitable gift that has the potential to last for many years. Brilliant, no?
A Promise of Eternal Support
The most memorable thing about grandmothers and their presence is the support they offer. They stay at your back no matter if it is just about asking permission for a late-night hangout from your parents or skipping a class just because you're not in a mood. So, why not promise her your eternal love and support with our best-seller Engraved 5 Heart-Shaped Birthstones Ring In Silver? This ring is a dream for women out there due to the elegant design and flower shape at the front. It has an entirely customizable self that allows you to select the birthstones of any color along with the capacity to engrave names. You get a chance to engrave names of up to 5. Awesome, no?
A Handcuff to Remember
Have you ever noticed your grandma's hands? They are the most hardworking ones. These hands have struggled through the thick and thin of life. So why not plan something beautiful for them? This mother's day brings you a perfect opportunity to give these hands an immensely beautiful piece – Engraved Heart-shaped Photo Locket Bracelet. Since it has a customizable self, it lets you place a picture in front along with letting you engrave the names and initials in the font style of your choice. What else could be better?
An Ending Note:
Hey? Worried about not finding the best mother's day gift ideas for grandma? Relax, we have worked for your ease. This article is a quick guide that walks you through some amazing mother's Day gift ideas for your grandmother. GetNameNecklace is a store that strives to deliver quality assured accessories to the customers to make their moments memorable. Our key focus is high quality and affordable prices.