Aquarius is the star of those born between 19th January and 19th February. This zodiac sign is ruled by the planet of innovation and revolution, Uranus. Wearing a relatable birthstone can do something magical to Aquarians. Like it will let them control their emotions and boost their level of creativity. Wondering about what is Aquarius birthstone? Well, not a single option you have in this regard. There are many crystals for Aquarius to wear. Here we will discuss five of them. These are:
Garnet
Amethyst
Rainforest Jasper
Sugilite
Agate
Which Aquarius Birthstone Should Aquarius Wear?
These five birthstones' healing powers align with the Aquarians' mood and exceptional qualities. Make sure to understand the metaphysical attributes of each crystal to choose the best one for yourself. Doing so, you can enhance your sense of freedom and heal your heart.
Let's head toward the healing attributes and different properties of Aquarius birthstones.
Garnet
Garnet is the symbol of confidence and victory. It signifies purity, power, and love for truth. Aquarians are said to be freedom lovers. Garnet can help such Aquarians as it induces a sense of commitment in its wearer. It's also the correct birthstone for the one who is a bit cold. Garnet will light the fire of immunity and power in you. But wait! It's a bit high in price. So wear it if you can afford it. It will protect you from black magic, evil eyes, and mental depression.
Amethyst
Next on our list of Aquarius birthstones is Amethyst. Amethyst is the most powerful Aquarius birthstone. It holds the magical energies of Uranus, the ruler of Aquarius. It's great if you want to enhance your spiritual side. And the best thing about Amethyst is that it's best for enjoying healthy sleep. Wear Amethyst if you have migraine issues. It will clear your anxiety and relieve the headache. This gemstone is serene and soft, with heavenly healing attributes for Aquarians. Also, Amethyst will work great if you want to eliminate addictions like alcohol.
Rainforest Jasper
Wear Jasper to enjoy its endless grounding joys. Take a freedom flight wearing Jasper, as it knows how to keep you grounded. Jasper is an endurance stone that is also known as the supreme nurturer. It's great for keeping Aquarians safe and increasing their blood circulation. Jasper connects with the frequency of your heart chakra to energize you. Wear Jasper if you want yourself to become emotionally stable.
Sugilite
Sugilite enhances your psychic abilities and energizes your spiritual side. It is available in a wide color range from pink to purple with each color serving a specific purpose. Pink is great for enhancing intuition. If you have a broken heart, wear magenta Sugilite to mend it. Go for the violet one if you want to eliminate chronic physical pain.
Agate
Connect with reality and stay balanced by wearing Agate. This birthstone is known for promoting exceptional healing powers to Aquarians. It raises self-confidence and promotes analytical skills in its wearer. Agate is best to keep the glory of Aquarians high. Boost your metabolism and energy levels by wearing this amazing stone. Find it hard to decide what to do next? Wear Agate as it will help you gain decision-making skills. Its magical powers will let you experience balanced thinking.
Aquarius birthstone jewelry
Reading a lot about birthstones. Seems like you are quite interested in buying some amazing birthstone jewelry. And here comes the Getnamenecklace with a few recommendations for you. Visit our store, and you will find dreamy birthstone jewelry there.
Wear the confidence and strength
Wearing a deer antler necklace will multiply the healing powers of your birthstone. Our personalized birthstone deer antler necklace crafted from sterling silver incorporates deer antlers in its design. The deer is a powerful animal symbolizing strength and confidence. Customize the birthstone to add a personalized touch to it.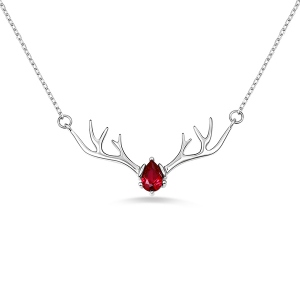 Express elegance with a dainty design
Our dual birthstone ring comes in a dainty customizablle design that lets you look amazing. It's great if you want to express elegance and individuality through your jewelry. Pair it with the birthstone of your loved one to flaunt your love. Add a modern touch to your jewelry collection with this amazing birthstone ring.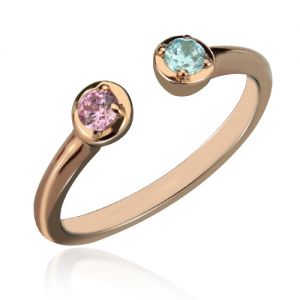 Conclusion
Birthstone jewelry is more than just a trend. And for Aquarians, there are a lot of options to choose from. Choose the one that aligns with your personality traits. For shopping, visit our store to find the best birthstone jewelry.