Every anniversary that passes as the years go by is a treasured chance to mark the shared experiences, victories, and personal progress the couple has enjoyed.
When given the chance to give the toast, it is an opportunity to relay sincere words that capture the soul of marriage and recognize the partnership that has endured the test of time.
You will need to ensure that your toast, is perfectly crafted, unlocking the power of words and leaving a lasting impression on everyone gathered.
This post will explore great examples of remarkable toasts for a wedding anniversary intended to celebrate the happy couple's unique love story in a way they won't forget.
25th wedding anniversary toast
A 25th wedding anniversary is a significant occasion deserving a lavish celebration as the silver jubilee of love and dedication plays out.
Below are touching and unforgettable toasts to assist you in raising your glass in admiration of the couple's love journey.
"To a love that has endured difficulties and welcomed joy for the last 25 years. Salutations to a fantastic pair who have shown the real meaning of dedication and tenacity.
"May your 25 years of marriage shine brighter than ever, lighting the road ahead with love, laughter, and many shared experiences. Congratulations on being an incredible pair and on your great road ahead.
"As you commemorate 25 years of blissful marriage, we lift our glasses to admire your steadfast love. May your partnership continue to uplift us all and serve as a light of hope for many more years.
"To the couple who have grown closer as they have aged together. Through your 25-year adventure, we have learned that genuine partnership is the secret to a lifetime of happiness and that love has no boundaries.
'Your 25 years of marriage are a monument to the strength of dedication, devotion, and steadfast love in a world when love sometimes appears transitory. Salutations to a couple who have endured the test of time and emerged victorious.
I admire the memories you've made, the challenges you've overcome, and the laughter that has brightened your days as you mark a quarter century of love. I hope the next 25 years are even more impressive.
30th wedding anniversary toast
The dawn of a couple's 30th wedding anniversary signifies a significant turning point in their journey, having endured episodes of joy, sadness, unshakable love, and support.
It's only appropriate to raise a glass in honor of this historical event that encapsulates the strength of their relationship and the importance of sticking together.
Here are good examples of toasts you can make for a 30th wedding anniversary to get you started:
Cheers to a pair whose hearts have only grown closer over thirty years of happiness and affection. May the next thirty years bring you happiness, adventure, and unending love.
You two started a journey of love thirty years ago, and today we honor the landmarks you two have accomplished along the road. May the next thirty years be filled with treasured memories, a shared dream, and a love that grows stronger daily.
The couple has shown genuine dedication by establishing a foundation of love, trust, and steadfast support over thirty incredible years. I wish you many more happy and exciting years.
May you pause to remember the beautiful times you've had together, the struggles you've overcome, and the love that has only become stronger as you mark your thirty years of marriage. Here's to a pair whose love is an example for us all.
You committed to one another thirty years ago and have kept that commitment every day since. Today, we toast a couple whose bond has endured the test of time. Congratulations on your 30th anniversary!
Congratulations on 30 years of blissful marriage to a fantastic couple who have taught us the value of love and dedication. May you experience great pleasure, good health, and beloved memories on your next adventure.
40th wedding anniversary toast
Celebrating four decades of devotion and love is a beautiful accomplishment that merits extremely heartful toasts.
Here are examples of 40th wedding anniversary toasts that will move you on this historic occasion and convey the beauty of a love story that has endured the test of time:
"Here's to 40 years of treasured moments, aspirations realized together, and a love that still brightens the room. Your anniversary celebration reminds you of the remarkable trip you two have taken together.
"May the warmth of your relationship continue to motivate others around you as you commemorate four decades of love and commitment. Salutations to this beautiful couple and the legacy of love they have created together.
"You two have shown that real love persists when everything seems to be fleeting. I look forward to many more chapters of your unique love story as you both continue to navigate the pleasures and difficulties of life together for another 40 years.
"On this historic occasion, we raise our glasses to appreciate a couple showing us the real meaning of commitment, selflessness, and love. Cheers to another 40 incredible years and many more shared laughs and experiences in the future.
"May your 40th anniversary be a commemoration of courage, loyalty, and the profound connection that has connected your hearts all these years to an attachment that endured the storms of life and came out even stronger."
"Let us pay tribute to the enduring legacy you have established as a marriage as you celebrate four decades of affection, trust, and shared goals. Many people who have the opportunity of seeing your love continue to be moved and inspired by it.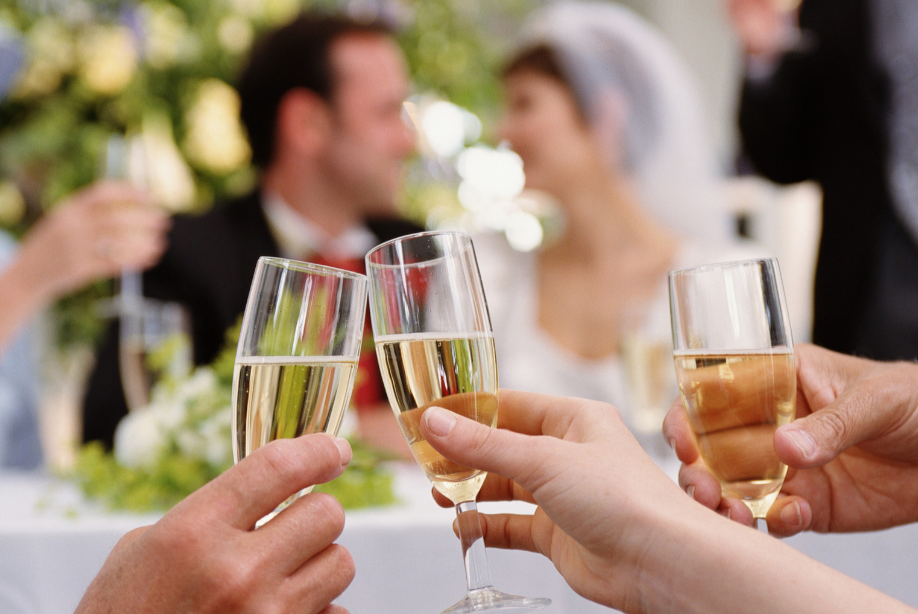 50th wedding anniversary toast
A 50th wedding anniversary is a monument to the lasting strength of love, devotion, and unshakable dedication as it marks the incredible milestone of 50 years spent together.
It is only befitting for a meaningful toast to celebrate this historic milestone and the couple's incredible journey.
Examples of toasts for a 50th wedding anniversary are provided here, each of which perfectly expresses the significance of this important milestone.
Here's to another 50 years of sharing goals, creating an array of memories, and providing unfailing support. Your love is a beacon of hope that points us all toward what a lifetime commitment entails.
Let's raise a glass in honor of five decades of love that has endured every hardship and blossomed with elegance, knowledge, and the fragrant aroma of unwavering devotion.
After 50 years of marriage, we have learned the genuine value of a soul connection. May the chapters of your love story be filled with happiness, laughter, and unending love.
Today, we celebrate a love story that has endured the test of time, overcoming every obstacle with dignity and tenacity. Here's to 50 years of harmony, showing that real love only strengthens with time.
To a couple whose love radiates as brightly as the sun, bringing warmth to everyone nearby. May your love shine even brighter as you commemorate 50 years of marriage, paving the way for future generations.
Fifty years of treasured memories, shared smiles, and tears have created a beautiful tapestry of love. We raise a glass in honor of your remarkable dedication and the numerous lives you have impacted today.
60th wedding anniversary toast
Finding the perfect words to show gratitude, affection, and adoration becomes even more important to commemorate the exceptional milestone of a 60th wedding anniversary.
Here are examples of toasts that honor the exceptional couple's undying love and devotion and their six decades of blissful marriage.
We raise our glasses in astonishment and respect for a love that has endured the test of time. Here's to 60 years of unrelenting dedication, contagious delight, and shared aspirations. On your diamond anniversary, congratulations!
Let's raise a glass to a love tale that never ceases to move and astound us as we meet today to commemorate 60 years of blissful marriage. May your journey together be blessed with many more romantic chapters, and your hearts be eternally full of love.
We raise our glasses to celebrate the wonderful couple whose love has endured the test of time on this auspicious occasion of your 60th anniversary. May love always be the music of your hearts, and may future generations be inspired by your legacy of unwavering dedication.
Today, we celebrate a couple whose love story shines as brilliantly as the sun after 60 years of treasured memories, mutual laughter, and everlasting commitment. Greetings and best wishes for further growth in your love as you celebrate this remarkable milestone.
We raise a glass to honor the couple whose love has endured for over 60 years. Your genuine connection and everlasting dedication are an example for us all. Cheers to 60 years of love, joy, and unforgettable memories.
The fact that a couple has been married for 60 years is evidence of the lasting power of love, and today we raise a glass to them as we celebrate their union. Cheers to many more years of bliss together as you celebrate achieving this fantastic milestone.
Conclusion: Celebrate Their Marriage With These Awesome Gifts
Through a wedding anniversary toast, you can easily highlight the essence of a couple's journey together and express your admiration toward them.
With each sincere word uttered, we pay tribute to the couple's dedication, grit, and lasting love while fostering the creation of priceless memories that will last a lifetime.
As you raise a glass to salute the couple, consider going above and above to honor the happy couple on their special day with a distinctive and thoughtful present.
This personalized name keychain with birth flower is a magnificent keychain that blends symbolism with customization allowing for the couple's names to be etched on a gorgeously made keychain accented with their birth flowers.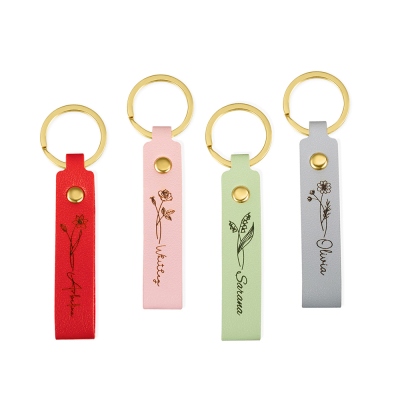 Another classy necklace ideal for couples who have embraced the delight of becoming grandparents is this personalized grandma's birthstone family tree necklace.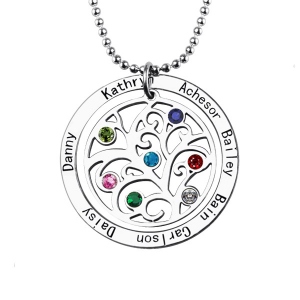 It includes a magnificent family tree necklace engraved with the names of each grandchild, proudly displaying her place in the family and commemorating the heritage she helped establish.