Getting to graduate is no joke. It takes a lot of effort and sacrifice to reach this milestone in life. So, if your friend has finally reached this level of accomplishment, it is time to make them feel supported and congratulated.
Apart from the party and gifts, well wishes also make them feel the warmth of family and friends. In this article, we will show you some lovely graduation wishes you can wish your friend.
Funny Graduation Wishes For Friends
You could incorporate some funny stories, quotes, and puns for a comedic effect. Sarcasm will also help you achieve this.
Examples:
Happy graduation to you my dear friend. May all your wishes come true except the good number of crazy wishes I know about.
Congratulations on finally passing the milestone that made you want to quit civilization and live in the forest. We all knew you could do it.
I am so happy that you have finally made it to the point that we celebrate your glorious finish. Now I am free to laugh at the poor, drained you who never thought they would get here four months ago.
Always remember to want nothing but the best in the future. You didn't almost lose your mind thrice because of your books and constant studying for nothing!
Continue basking in the spotlight unapologetically because you deserve to be celebrated today. Crave more of this recognition and strut your way up to the peak of your career.
I am so proud of you on this day. This feeling tops the pride I felt when we finally got matching tattoos that your mom now knows about just now.
That graduation gown really makes your eyes pop. But I'm not surprised because success has generally looked good on you.
You deserve all the appreciation today. I hope I will be there to open your gifts with you because I am already very ecstatic about that, so don't kick me out when I show up at your house later.
Graduation Wishes For 8th Grade Friends
This is one of the graduate's early milestones. Try to add bits of advice for them in the wishes, they may come in handy in the future.
Examples:
I am truly happy for you, this is the just beginning of many graduations you will want to have. Keep having your zeal for success. Never let it fade away.
As much as this is the start, be encouraged by this fulfilling feeling you have right now to want more and more celebrations of your major accomplishments in the future.
Best wishes on your graduation day. May your dreams and goals become reality and make the world a better place.
May you enjoy this day and I pray that you keep unlocking new and higher levels of your potential.
May this graduation give you the drive to want to keep experiencing the fulfilling nature of success?
I know how much you have dreamt of the moment you will graduate. We are here now and I am very proud of you for never giving up. Keep up with that spirit.
May you enjoy your graduation and I wish you all the best in your future. Let no one put you down for something you worked hard to achieve.
My pride and happiness for you on this day knows no bounds. Keep up that ambitious character and you will surely reach unthinkable heights.
Inspirational Graduation Wishes For A Friend
These wishes should be encouraging and give them the drive to strive for better in their future.
Examples:
I wish you nothing but abundance in your future. Never settle for something less than abundance.
I am proud of you for finally getting to graduate. May all your dreams keep coming true.
I want you to know that you deserve to be celebrated like this. May your pursuit for
success in your career end in joy.
You have always been a motivator to everyone around you. Congratulations on finally graduating.
Congratulations on graduating dear friend. Never let go of your dreams in the future because you can achieve them. The bigger the better.
It is no surprise that you finally made it to this point. You are an inspiration to many so keep striving for the best.
I am so proud of you for graduating. May you keep reaching for the stars. You are destined for greatness.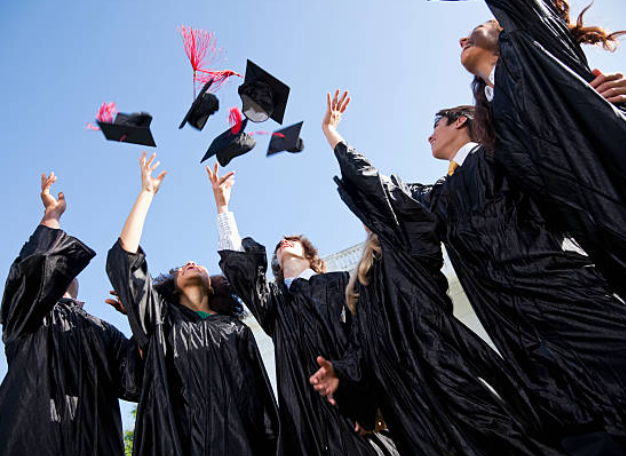 Wishes For College Graduate
A college graduation wish should have congratulatory to make them feel appreciated and proud. Add inspiring words to show the graduate your support, and that you want the best for them.
Examples:
Today I share in your joy just like I shared the pain you endured making great efforts to get here. Congratulations dear friend.
Best wishes even after your graduation, you were born to pursue this and you deserve nothing but the best.
Happy graduation day to you dear friend. It is an hour to share this proud moment with you. I appreciate you.
Congratulations on finally graduating. The journey to this moment was long and treacherous, but you made it.
You deserve all the appreciation you will get today. You have shown many that hard-work surely pays.
Best wishes on your graduation and after. May all you put your mind to come to a reality. Do not question any good thing that will happen to you because you deserve it.
This is a wonderful day that we are celebrating your large achievement. May you keep bringing your family and friends joy and pride.
I am not only happy for you for finally graduating, but I am also full of pride. You qualify to be a role model to many.
Christian Graduation Wishes
These wishes involve thanking God and wishing the graduate all God's blessings in their future endeavors.
Examples:
You being able to make it this far is the Lord's doing. We thank him and pray that he continues to open doors for you all your life.
Congratulations on having graduated. May the Lord keep you strong throughout the course of your life so that you may keep achieving great unthinkable things.
I am happy that you are graduating today. You are blessed and highly favored, so feel free to want the best for yourself.
Congratulations on this graduation. It was no easy ride, but the Lord sustained you, and may he keep sustaining you through all your days.
May God open your path so that you may keep being successful at every turn.
We thank God for the far he has helped you reach. May his blessings continue to follow you all your life.
Best wishes on your graduation day, dear friend. God has blessed the work of your hands, and may he keep doing so.
This is a lovely day, and I am happy for you. We thank God for granting you such favor. May you continue to reap abundantly.
Conclusion: Celebrate your friend who is graduating
Apart from the lovely well wishes your friend will receive from you, they will also appreciate your lovely gift. A little materialism wouldn't hurt.
A great gift idea is the follow your heart monogram necklace. It is made of sterling silver coated with 18k gold. The monogram pendant has your friend's graduation year and the words "Follow your dreams" engraved to motivate your friend daily.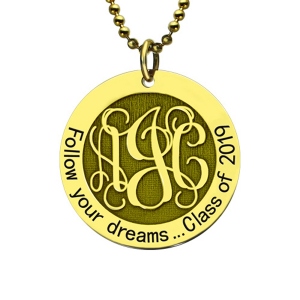 Another wonderful gift for your friend is this custom classic graduation jewelry box. Its exterior is of soft leather and can be customized with your friend's name and graduation date. Apart from storing jewelry, it will also make a pretty keepsake.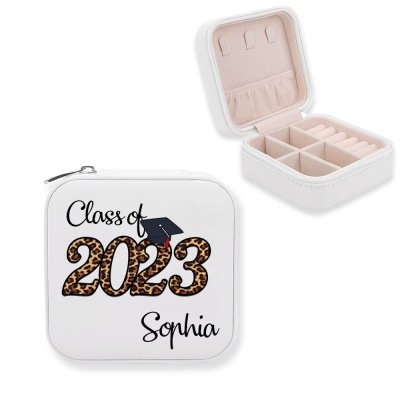 We hope the tips discussed above will help you compose a great wish that your friend will never forget.