A housewarming gift is one of the best gifts to give someone you know. A housewarming gift is a thoughtful, fun choice that shows you care about the recipient and their happiness, but it also lets them know how much you like and appreciate them.
We all know it's hard to pick just one gift for a newlywed couple, but not anymore. If you're looking for the perfect gift for a married couple, here are some brilliant housewarming gift ideas for the couple that makes their day an amazing one.
So, why wait? Let's begin.
Pieces of heart
The brilliant way to show your love and support to a couple is by our personalized Breakable Heart Name Necklace that is perfect for occasions like housewarming parties, etc. This sweet and delicate necklace features a silver heart-shaped pendant with an engraved message of your choice. Choose from over 100 different fonts and styles to make this the perfect gift for a birthday, anniversary, or just because! This name necklace is designed to make a statement and show love to the world. You can easily customize the names of your couple on each half of the heart using our custom engraving function. The beautiful sterling silver Rolo chain makes it easy to wear and gives it a stylish pop of bling at the same time.
Lock of love
Crafted in 18k gold, this quirky Couple's Bracelet And Key Necklace set by Getnamenecklace is a unique mix of classic style and contemporary artistry. The lightweight bracelets can be worn alone or stacked together as part of our collectible essential necklace set. This necklace is perfect for a couple as a housewarming gift and helps to show off their love. The ideal balance of style and functionality. This sterling silver bracelet features a 1″ long stamped vital charm and a matching necklace. Not only is this key and bracelet set simple, but it's also classic. Pair with a yellow dress or anything elegant for the perfect finish to your look.
Finger bands that exhibit love
Getnamenecklace has brought to you this wonderful Pterocarpus Ring. This ring is intended for delicate use, so it can give the wearer a more comfortable feel. The product is made of wooden material and gives a decent vibe when worn. The setting used in this ring is an ultramodern manufacturing technique. The engraving on this ring gives it a special look you have never seen. This Pterocarpus flower ring features an elegant, detailed design that will complement the couple's fingers. This beautiful ring is available in sizes 5-12 and fits all fingers, including the pinky finger. Get this Pterocarpus Silver & Garnet Necklace from Getnamenecklace as a perfect gift for your dear ones on any occasion, especially a couple's housewarming.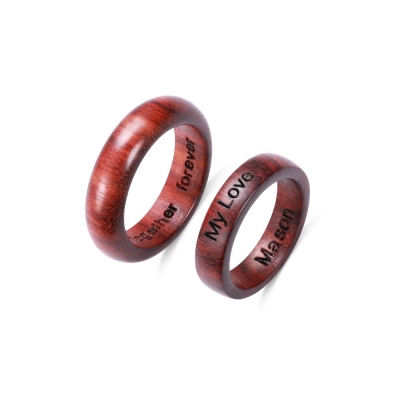 Carved with affection
Express your love through a delicate but elegant stainless steel Lovers Bracelet. This housewarming gift is another heart-touching piece that symbolizes love. The surface of each bracelet is engraved with charming declarations of love. A striking reminder that two hearts are forever entwined, this bracelet is carved with extreme precision to display a special inscription. The best thing is that you get multiple options for engraving, allowing you to choose the one that suits you best. With smooth, sleek surfaces and eye-catching design, each bracelet is a one-of-a-kind gift for one of your beloved couples. Still, having second thoughts? No, buy it before it goes out of stock.
Keep the keys secured
For your special loved one couple, order this personalized Heart Custom couple Photo Keychain today! This stunning Stainless Steel customizable heart engraved keychains can be made with a couple of photos in colors! You can opt to write a special message to go along with the picture on the backside of the image. This brilliant and beautiful keychain can be personalized to put forward your love, affection, and care for the couple. It has a lovely heart shape front and back, which looks very pretty. This heart photo keychain makes it easy to remember your house, office, or any other keys, so you will never miss anything again!
An exquisite decor
Personalized Ghost Decor for Couples, a unique yet inexpensive gift idea that's become a family favorite for housewarming parties! You can use our personalized Ghost Decor for Couples to express how much you love and appreciate the bond they share with this sweet wall decoration that features 2 ghosts. Add two special names and delicate remarks to the ghost decoration to make it unique for the couple. This decoration piece comes with 2 keychains as a gift to you. Nonetheless, you get multiple font style options, letting you go with the one that looks perfect. A brilliant couple gift to make their celebration more special!
Timepiece with love
Do you want to give your beloved couple something truly special? Why not get them a watch set that's beautiful and meaningful? The ebony watch for couples is a perfect way to surprise any couple at a housewarming party. Ebony wood is unique with rich, intricate detail and striking black color. This unique natural material combines detail, beauty, and style to create this amazingly elegant men's and women's personalizable timepiece. It has a natural look that won't date quickly. You can engrave the back of this watch with a message of your choice or maybe just the time, but either way, this watch is sure to be a winner!
Takeaway:
Can't figure out housewarming gift ideas for a couple? Relax, we have done that for you. This article consists of 7 amazing gift ideas for you to decide from. Each pick is unique and puts forward the message of love and affection. To order them, head to GetNameNecklace, a fantastic online store that deals in all gifts, accessories, and jewelry pieces. The store aims to deliver quality-centered products at extremely reasonable prices. So, why wait? Give them a check now.