Today we will discuss some of the best wedding wishes for your best friend. We all know that weddings can be a stressful time, so it's always nice to have a little bit of humor thrown into the mix.
So here are some of our favorite funny wedding wishes for your best friend.
Related: Unique Wedding Anniversary Quotes To Wish Your Wife A lot Of Love
Funny Wedding Wishes for Best Friend
Want to wish for something extraordinary at your best friend's wedding? Here's a list to help you out.
Keep calm and avoid getting married. Happy Wedding, bestie!
There will be times when you two will genuinely love one another. The remaining time will come after that.
The phrase "hanging out with friends" will soon be forgotten. Try to keep me in mind!
Look at you two getting hitched while I'm still using Tinder to swipe right! Greetings, buddy
Congratulations on starting the journey of life that is marriage! Marriage is either a two-way street of compromise and sacrifice or a one-way street to divorce.
If you decide to alter your mind, I know a decent travel agent. Have a lovely wedding if not!
Because I'll be reminded of all the money I'll save by not getting married, I know I will have a great time at your wedding. Greetings, my dearest friend!
Your marriage ends your love affair and ushers in a brand-new, never-ending headache!
You've at last discovered someone who gets your strange humor. Keep them forever, please!
What do late-night gatherings, social outings, and relaxing weekends all have in common? Well, once you get married, they all vanish. So let's celebrate this new phase!
Funny Wedding Wishes for Female Best Friend
Got a female best friend who is getting married? Here's how you can wish her on the big day.
The only good thing about your marriage is that you now have someone else to bother when you're bored. Happy Wedding to both of you!
Congratulations on your husband, your first adoption success!
Without your hubby, your life lacked something. However, with him, you have nothing left. Let's celebrate!
Be at ease. If not with this one, you will succeed with the following one. Cheers!
The secret to maintaining an extraordinary marriage is to behave as though your husband is in charge of all decisions and stick to your own principles. Congratulations, everything will work out for you, and he won't know any better!
Don't anticipate your husband changing once you get married. He needs your help throughout the procedure. Happy nuptials!
Marriage is similar to reading Shakespeare in that it has humor, romance, and a tonne of tragedy. Salutations to you and Shakespeare!
You might have just come to me if you had longed to cook for someone your entire life. But in any case, congrats on your impending nuptials, sweetheart!
Funny Wedding Wishes for Male Best Friend
A male best friend is like a brother who holds your back in thick and thin. Wish them good luck with these wishes.
I'll share some of my knowledge with you, my friend: The four words "I'll do the dishes" are crucial for a happy marriage.
Never laugh at her choices. Her biggest fan is you, buddy! Congratulations on getting to experience this incredible journey!
Congratulations, and avoid building furniture together if you want this to last.
You won't need to worry because 90% of your marriage will consist of you asking each other "WHAT" from a different room. People, congratulations!
Marriage is a union between two people who never forget anniversaries for one another.
Marriage is similar to vitamins in that we complete each other's daily basic needs.
Happy marriage to you both, and may you always be able to tolerate one another!
You two officially share a bathroom, a bed, and remote control! Greetings on your marriage as companions for life!
How can you ensure that your husband remembers your anniversary the best? Get hitched on his special day.
Ask my bank account manager—marriage is not for the weak of heart! Congratulations!
Knowing that you can irritate just one person for the rest of your life is a tremendous blessing. Congratulations!
Why be married when it's simpler and faster to run out in front of a train? I kid you not! I hope you're smiling during your wedding!
Marriage is like going to acting class. Everything from comedy to melodrama to tragedy is available for practice. Congratulations.
Funny Wedding Quotes for Best Friend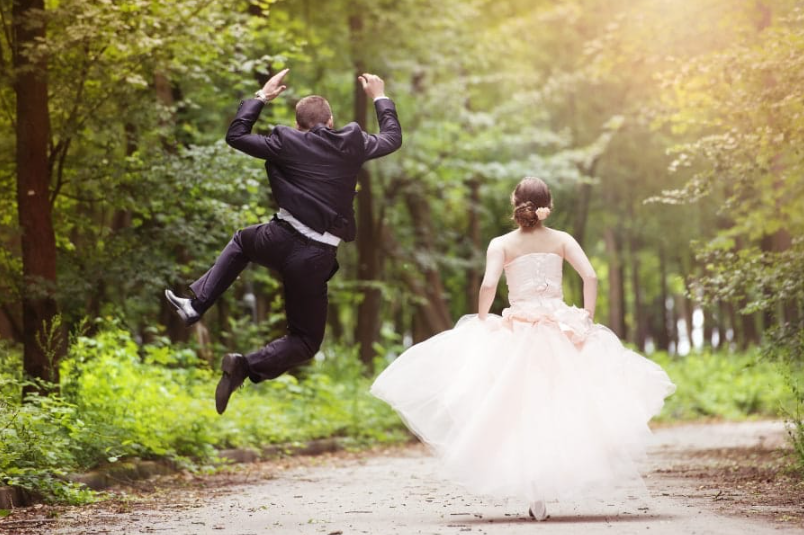 Related: Wedding Anniversary Quotes for Husband
Looking for quotes to wish your best friend on their wedding? Let us help you.
The shortest sentence in English is supposed to be "I am." Could it be that the longest sentence is "I do"?
Only on your wedding day will people gleefully accompany you on your pains. Have a happy marriage!
Marriage is similar to signing an agreement without reading the terms and conditions. Enjoy your wedding day!
Every wedding is joyful. Living together after that is the challenging part!
A happy marriage is one where both partners believe they got the better deal in secret.
The engagement ring, wedding ring, and suffering are the three marriage rings.
Before getting married, a man isn't whole. He is done after that.
Why do married individuals live longer than singles? I believe that married people make an extra effort to outlive their spouses to have the final say.
Marriage can involve soulmates or cellmates.
The only difference between marriage and ignorance is that stupidity is free, whereas marriage is pricey.
Takeaway:
Looking out for funny wedding wishes for your best friend? Don't you worry because we have done the work for you? In this article, we have talked about some funny wishes that will make your best friend laugh on his wedding day. Nonetheless, if you have selected the wish and are now looking for a wedding gift, go and check out GetNameNecklace. This store is an all-rounder where you can find everything from gift items to accessories and other personalized items. We hope you find something perfect.