A friendship card serves as a keepsake and hallmark of your friendship. You can send a friendship card to your friend on his birthday or any occasion to nurture the bond you share with him. A sweet handwritten note will bring a cute smile to your friend's face.
Now you must be wondering about what to write on a friendship card. We have gathered some thoughtful messages that your friend will love to read. Some are brief yet meaningful, while others are a bit longer to appreciate your lovely bond. You can personalize these thoughts and ideas to add meaning to them.
So let's begin!
Make an exciting list about your friendship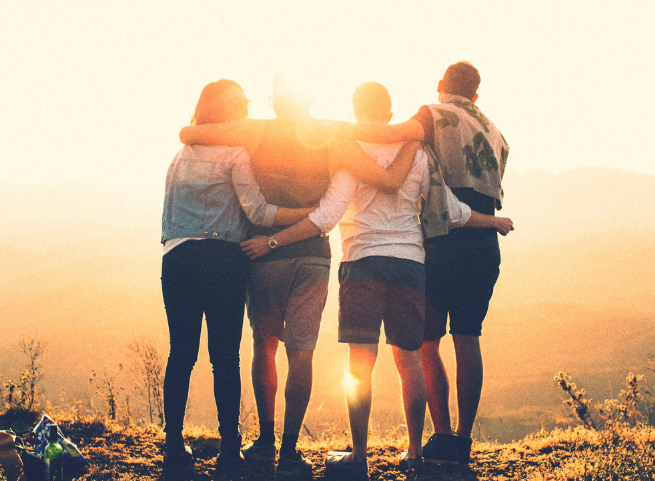 Lists are always exciting to read, mainly when they narrate something about you. Make a list of memories or qualities, whatever you like. Here are some suggestions for you!
The five reasons I feel fortunate to have you in my life
Three qualities that make you the best
My three craziest memories with you
The ten times when you brought a smile to my face
Five times in my life when you stood by me
Fifteen things I love about you
You are not urged to keep your list short. You can go craziest and make a list as long as you can. The more you write, the more your friend would like to read.
Highlight the favorite quality of your friend and give a compliment
Friendship should involve praising and giving nice compliments to each other. Your friend may have a lot of qualities. Why not highlight and appreciate one of those qualities in your friendship card? Here is how to do it!
I have never seen such a genuine person in my life. Always be the same, my dear friend!
You are a keen listener, my friend. Thanks for listening to me whenever I need to talk to someone!
The way you laugh is so cute. May you keep on laughing at my lame jokes!
I wish my sense of humor would be as inspirational as yours.
It's good to see how helpful you are towards everyone. I can never forget the number of times you helped me.
Your intelligence and wisdom inspire me. The way you take me out of trouble is remarkable.
You compel me to think about how someone can be so kind.
I feel fortunate to have an honest and loyal person in my life.
Thanks for always being my strength. You taught me how to stay strong in difficult times.
Your originality makes you different from others. I never got any fake vibes from you.
Give an edgy compliment to your friend
Edgy compliments are not for all the friends in your social circle. If it suits your friend's personality, you can straight away write it. Here are some edgy compliments for friends!
I love the way we hate the common things in us!
You never let me feel bored.
I love talking to you in my leisure time.
How can someone be so pure, free from any sugar coating? You are what you are, and I love this thing about you.
I would prefer you over pizza.
You look dumb, but in actuality, you are pretty smart.
Good people die young. Be cautious because you are too good!
How can someone be so amazing?
Whenever I look at your smile, I realize that the cute things are free yet worthy.
Be thankful and pen down your gratitude
Your friend is a blessing to you. Appreciate the presence of such a fantastic person in your life by expressing your gratitude. Here is how you can be thankful to your friend while writing a friendship card!
You and your friendship mean the world to me.
I can't thank you for whatever you have done for me so far.
Thanks for being so caring and respectful towards me.
I am grateful that you gave me a lot of memories to cherish.
I can't resist praising my fate, for your companionship was written in it.
Many things compel me to thank god for blessing me with a true friend like you.
Thanks for always being my support system.
Use the word "We" to start your message
Together you become better. Write the great things about you two in terms of "we" to make an impactful sentence.
We know how much we love each other. We can't imagine our lives without each other.
We have made so many memories that my mind is flooded with them. Let me make the room to incorporate new memories into it.
We have been sharing this bond for so long.
We proved that there are worthy relationships other than blood relations as well.
We are the accurate picture of unconditional love.
We are good individually. But we become better when we are together.
We are genuine when we are together, and that's the best thing about us.
We differ a lot, but we proved that opposite poles always attract.
Write a friendship quote or message
You can write any quote or friendship song on the card. Here are a few examples for you!
I prefer walking with my friend in the dark to being alone in the lights.
Nothing can pay the price of true friendship. This bond is priceless.
A friend is a gardener who lets your soul blossom.
A friend is the best gift a person can give to himself.
The basic need of the heart is a true friend.
Friends are those who are kindest to each other's dreams.
A friend is born to be in your life. It's not something man-made.
A true friend will always neglect your shortcomings and appreciate your success!
Conclusion
It seems like you have found enough ideas to pen down your emotions regarding your friendship. It's time to show your love and send a beautiful gift with a friendship card. You can consider getnamenecklace for buying a present as a token of love for your best friend.