Mother is more than just a word; it's an emotion. It's a feeling that soothes you in your lows and makes a house feel like a "home" when she is there. She's the kind of person who will climb a mountain for you without asking anything in return. The most unconditional love in this world is a mother's love for her child.
She loves you before she even knows you. No one can imagine heroism more extraordinary than motherhood. They are selfless. We don't usually tell them how important they are to us and how much they should be appreciated. So a day like Mother's Day is designated especially so that you can take out some time from your busy lives and dedicate it to your mothers; you should make the most of it.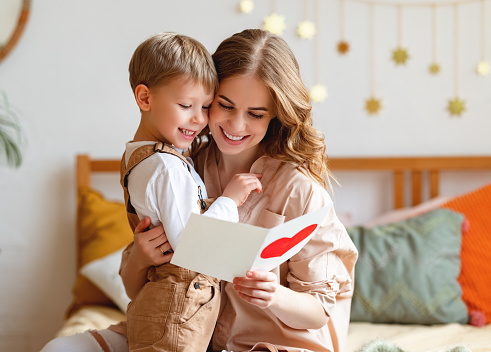 Why Give Mothers a Gift on Mother's Day
The tradition of giving gifts to your mothers on Mother's Day is ancient, and it should continue. Nothing beats the satisfaction of creating or bringing something for your mother. It shows her how much time and effort you put into getting something, especially for her. The happiness of a mother, enjoying a day off being pampered by endless gifts on a day that is designated only to celebrate her, cannot be quantified. Our mothers work selflessly for our day and night, not wanting even a dime of appreciation in return. We as a child can never repay them for what they do for us, but we can show them love on this day with the love language of gifts.
What kind of gift is meaningful to the mother
To figure out what would be a meaningful gift to your mother, you have to realize what holds the most value for her; safety for her children. Our mothers are sentimental and not materialistic, they don't expect an expensive present from you, sometimes they don't want anything but affirmations and support for the back-breaking chores and everything she does to make sure everyone in the house is safe and healthy.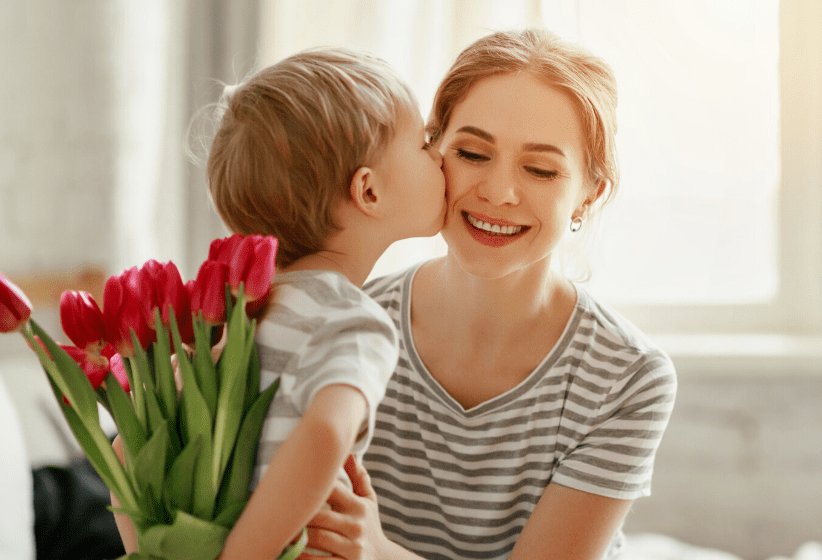 They would appreciate getting reminded that their children are safe and sound wherever they are and haven't forgotten about their mother and still love her; as we tend to forget to express our love because of our hectic life.
Now to convey this simple message of love and reassurance that you're fine, you can send her a bouquet which she can keep for a week and remember your love and appreciation for her every time she smells or sees the flowers sitting on her bedside.
You can call or text her randomly to ask how she is doing or give her a surprise visit with sweets to make her day. If you live with her you could hug her any time of the day and help her in doing chores or running errands, even if she isn't asking for help, she still needs help, and you around her to make her feel like she has her child beside her no matter what comes her way and will always support her with everything.
What's the perfect Mother's Day gift?
Companionship, gratitude, and greeting are the perfect gift for Mother's Day. Our mothers have compromised and sacrificed a lot for us and we sometimes forget it. We think that they have done nothing for us and they don't know how we struggle in our life but the reality is that they have gone through so much and they don't want us to know all about it. We should appreciate and greet her for what she has done for us. Mother's Day is the perfect occasion to show love, gratitude, respect, and honor to our mothers.
The greeting is the very first step you can have on mother's day by expressing her with good wishes for example You can make her feel special by saying something nice to her that you might not have mentioned before.
Spending time with your mother is crucial since she is your most essential source of advice in the world. You can deepen your affection for one another by spending time with her. You make memories and form bonds that will last a lifetime.
To say thanks and to express our affection towards our mothers, we got failed in our busy schedule. To pay appreciation, respect, gratitude, and companionship to mothers on mother's day is a chance for us to show our feeling.
You can make her feel extra special by giving her Wooden Heart Family Unity Name Puzzle Decor. This immaculate piece is a walnut wood decor item that represents the unity and love that a mother bestows to keep a family together, forever. And you giving her this as a present would mean that you respect her efforts and will remain thankful for life. This decor has complete wooden puzzle pieces that have all the family members' names on them. Each puzzle piece would come together and fit perfectly with the heart center that has the words 'mom' engraved. Of course, you can change it and have your actual mom's name engraved, but you see the true essence of it. Also, another added feature that you can add is custom content on the base structure which makes it sturdy to stand. A simple 'I Love you Ma' or 'together forever' are some examples that you can get.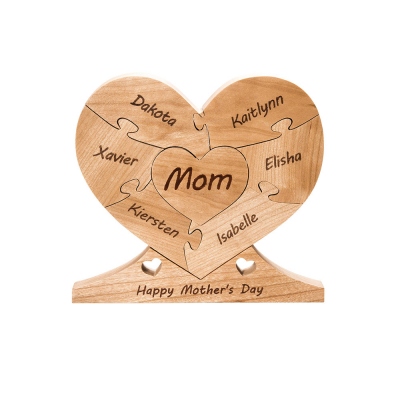 Another gift that you can give your beautiful mother to appreciate is a Women's Bracelet with Custom Heart Birthstone and Name. This is a delicate bracelet that will embrace her wrist in the most sophisticated way and will give her a constant reminder that you love her immensely. This role chain sterling silver 925 piece will become her everyday essentials. The center features a carved-out dual heart with birthstones and shiny white gems embellishing on the sides. A sensitive piece that depicts the sweetness and tenderness of a mother. You can let us know her birth month and we'll add in the coordinating birthstone. You can also get her name engraved on the heart too. Also, to make it even more customized along with their respective birthstones and names too. It can be the family members or just her name and your father's or her girl gang! The possibilities with this unique bracelet are endless.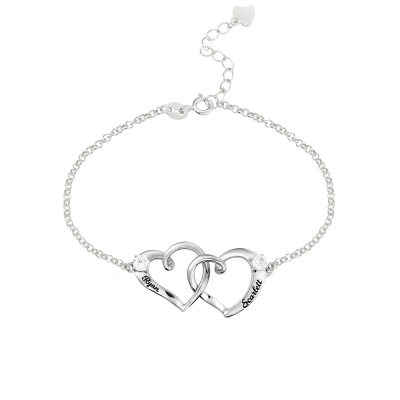 If bracelets are not her style, you can also woo her and show her how much she means by giving her Mother-Child Projection Photo Necklace. A necklace that embraces the unshakable bond of a mother and child in the simplest way. The chain is a cable chain with a small pendant that is an outline of a mother holding her small baby. The middle of the pendant holds a projection stone that would have the most loving memory of the two of you together. So, whenever she'd like to see it, she can just use her phone's flashlight and see it project, right in front of her eyes. You can pick out a picture of the whole family or maybe her portrait, just do what she likes. So, make her on Mother's day with this exceptional gift.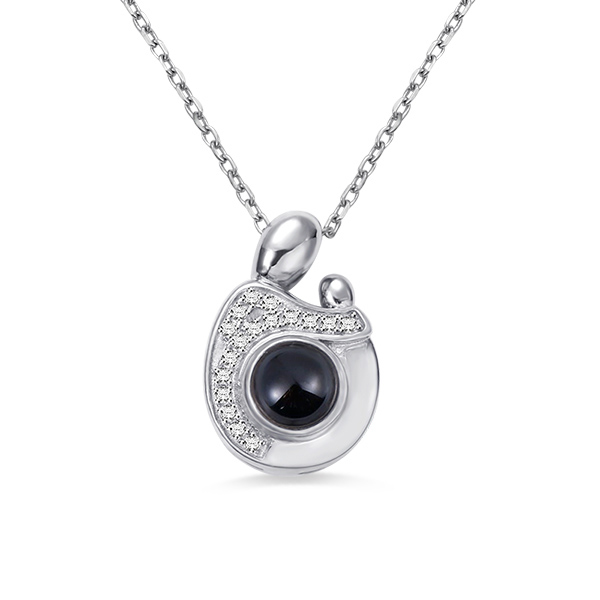 Final Thoughts
Mothers are the most delicate yet the strongest creatures on earth. So, giving her a gift makes her feel cared for and loved. And if you want to check out some more awesome presents for her, visit our store and you'll be amazed by the variety that we have in stock for them.