Finding a unique name for your new boy might sound like a big deal. Does the letter H excite you and would like it named after your son?
In this article, we have listed old names, biblical names, and cute ones just for your inspiration and need.
Popular Baby Boy Names That Start With H
Are you searching for common baby boy names starting with H? Here are 15 popular ones.
1. Harrison
This name originated from Nothern English and is a patronymic surname. It means "son of Harry."
You can name your son if you are Harry by name—also if you want a presidential name, two American presidents were named after it; William Harrison and Benjamin Harrison.
2. Henry
You can name your baby this royal name, Henry. It originates from the German name Heimirich which means "ruler of the household."
Many European kings were named Henry including the eight kings of England. Yet it's still fresh and stylish.
3. Hunter
Give your son this strong vibe name that can represent him till grown. It was used as a surname for hunters in England, it means "one who hunts."
Hunter S. Thompson is a namesake to your son. He was an eccentric author and founder of the Gonzo journalism club.
4. Hudson
The name Hudson originally comes from an English surname meaning "son of Hudde."
"Hudson" has a style because the Hudson River in New York State was named after an English explorer, Henry Hudson.
5. Hayden
Do you fancy the name, Hayden? It's derived from the Celtic word "Aidan" and means fire.
Hayden Florence is a celebrity kid named this. It has also gained popularity due to other people's names like Jaiden.
6. Holden
It's originally an old English surname meaning "hollow valley."
J.D. Salinger's classic character, Holden Caulfield was the teenage protagonist and narrator. The name gained popularity from the book and can also represent your kid nicely.
7. Hector
Hector is a name that originated from the Greek meaning "holding fast." It's an ancient hero name from the Trojan War.
It gives a sense of honor, power, and strength.
8. Heath
Heath means "heathland dweller." It is given to people who dwelled on heath, evoking images of nature.
An actor named Heath Ledger is one of the legends riding on this name's prestige.
9. Heathcliff
Heathcliff means "cliff near a heath."
Heathcliff is a name of British origin that was popularized by a novel called Wuthering Heights and its film adaptation.
10. Harvey
Your son can exhibit a strong vibe from the name Harvey, which means "battle worthy."
Actor Harvey Keitel and Civil and Human Rights Harvey Milk can be your son's namesake.
11. Hugo
Hugo is a special name that originates from German, Spanish, and Portuguese meaning "mind intellect"
An American politician Francis Hugo and Adele Hugo a French diarist are named in this name's favor.
12. Hugh
It's a British original name meaning "bright in mind and spirit." It's common in Medieval England.
It's pronounced as HYOO.
A good name for your kid to represent a person who possesses great intelligence and character.
13. Hank
Hank is a special name you can give your son as it is a diminutive form of Henry.
Musician Hank William and famous baseball player Hank Aron are the namesakes.
14. Hamish
Your son can be given this Scottish masculine name. It is anglicized and is equal to the name James.
Just replacing James with Hamish makes your boy unique by name. You can call them Hammy or even Mish.
15. Hadrian
Hadrian can be a nice name for your black-haired son. It originates from the Latin 'Adrian,' which means "dark one."
Although Adrian was the original name, It has now been upgraded to Hadrian.
Unique Baby Boy Names That Start With H
Most people like individuality and standing out from the crowd is their prestige. Here are unique boys' names starting with H.
16. Huxley
Huxley means "inhospitable place."
The name is of English origin with some pedigree attached to it. Hugh Huxley, a British biologist, is one of the great namesakes.
17. Halcyon
Your boy can represent the universe as calm and peaceful via the name Halycon which means peaceful.
It is of Greek origin meaning "kingfisher bird" a mythic bird who could calm the seas.
18. Hart
Hart is a name of British origin that means "stag" or hero.
This name can inspire a baby to be heroes of their own stories. Famous American comedian Kevin Hart is an example of the namesake.
19. Hamlet
Hamlet means "home or village." It's originally from the Old Danish and the Scandinavian.
If you are a fan of plays, you can honor Shakespeare's Prince of Denmark by naming your boy Hamlet.
20. Haze
Haze is a unique name meaning "dimness caused by fine particles." It originates from ancient Dutch.
People named Haze include celebrities like Allie Haze and Jenna Haze.
21. Harlem
Harlem means "meadow of the hares," and its origin is Dutch.
Harlem Yu is a famous singer with this name. He's a famous Chinese singer, songwriter, and actor.
22. Havoc
Havoc is a name of Norwegian origin meaning "great destruction."
People perceive this name as sympathetic, compassionate, and generous.
23. Hawk
Hawk means "bird of prey." It is of English Origin and encourages your son to sharpen their talons with pride.
Tony Hawk is one of the legends with this special name, he was a professional skateboarder.
24. Hero
Hero is a name originally from the Greek meaning "brave one.".
Hero Angeles, a Filipino actor is your kid's namesake if you consider it.
25. Hiram
You can bring your child to a high distinction by naming the Hiram, meaning "exalted brother."
It's a Hebrew origin name. It was given to a King of Tyre in the Old Testament.
26. Hitch
Meaning "to fasten or secure," Hitch is a perfect firstborn son's name.
Writer Christopher Hitchens who wrote his autobiography 'Hitch' is a namesake.
27. Howell
Meaning "eminent, extraordinary," Howell is a prominent name for your child.
It's derived from the Old Welsh given name, "Higuel," meaning good sight.
It's not particularly common as a surname.
28. Hydra
Hydra means a mythological monster with many heads.
It is said that Linnaeus named a genus of water reptiles after this myth. The namesake is Hydra, the sea monster.
The monster holds the key to biological immortality and your son can represent long life through such a name.
29. Hux
Hux is derived from the Old English word 'hoc,' meaning "enclosure." It is unique and perfect to stand out in a crowd.
People named after it are famous, such as musician and composer Hux Flux. He is known for his original music style and various albums, like "Waveform Tribalizer."
30. Hyatt
Hyatt is an English origin name meaning "high gate." It brings a high standard and vision to your little one's life.
Hyatt Hotels Corporation is the namesake of a well-known global hospitality company. They have more than 900 hotels and resorts in 65 countries.
Conclusion
Naming is not only the hard part since there is more to be done. Although the babies are innocent, ceremonial gradings must be done, and gifts be given. Family, friends, and relatives try their best for a great experience at baby showers and birthdays.
You can buy your loved one a gift. For example, this customized bodysuit &Mommy T-shirt is a marching shirt for both the mom and baby. It's a perfect gift to celebrate new mothers.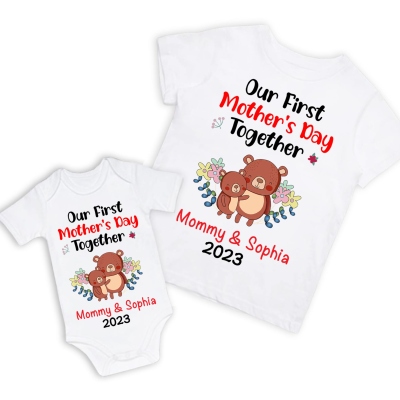 You can also improve the experience by adding a Baby Wreath Flower Night Light. LED lights that can bring poetry to children's rooms and event decorations, perfect for baby showers and girls' birthday parties.