In this Internet era, long-distance relationships are more widespread than ever.
Despite the difficulty of being far from each other, the flame of love may continue to burn bright thanks to the power of words that bridges the gap.
Sending sincere text messages to your loved one, who is miles away, is an easy yet practical approach to showing your care, support, and trust.
In this article, we'll look at lovely and uplifting texts for your long-distance girlfriend to solidify the connection and make her smile.
Expressing Love and Affection Across the Miles
Even though we live far apart, I find myself falling more in love with you every day. I have warm and sincere feelings for you that distance cannot lessen.
Whenever I see a star in the night sky blazing gloriously, I am often reminded of your amazing smile. Just know that despite how far away we are, I constantly have you on my mind, and my love for you grows with time.
Our bodies may be separated by distance, but our souls cannot be. Although I cannot touch you now, please know that my arms are aching to embrace you. Despite the distance between us, you are my forever.
I can attest to the proverb that says, Absence makes the heart grow fonder. I appreciate the times we spend together like precious gems, and I look forward to the day when we can make many more memories together.
Time zones may separate us, but they won't put out the flame of our love. Because of your affection, I am reminded that genuine love has no bounds, and the distance has become only an inconvenience.
These kilometers between us are just a temporary blip in our love story in the larger scheme of things. Our hearts are synchronized and bound by an unbreakable love, even if we may not be physically present together.
"Even when the world may physically divide us, Our hearts stay connected by a love that has no bounds. Despite the aching in my spirit, I can't help but think of how much I adore you. Every day, forever, I am yours.
Reminiscing on Shared Memories and Moments
I can still remember your laughter filling the room, the warmth of your hand on mine, and the delight in your eyes every time I locked my eyes. Although physical distance separates us, our shared memories knit our hearts closer together.
"As I go over our old pictures, I'm so grateful for all the wonderful times we've had together. Every memory of you, whether impromptu outings or peaceful evenings, has a particular place in my heart.
"I keep thinking about how softly you touched me and how funny you sounded. Every shared experience we've had seems like a priceless gem that I cherish. I'll treasure each memory we've created until we can create new ones.
"Now and again, I shut my eyes and see us conversing and exchanging looks in that warm café again. I find comfort in the times we spend together since they are a constant reminder that our love is unwavering no matter how far apart we are.
"When I recall the day we were caught in the rain, laughing and dancing as the drops drenched us through, I can't help but laugh. Our shared experiences are like little sparks of enchantment that make my day. When we can make fresh memories and experience the rain again, I can't wait.
"Even though you're far away, I can still feel your presence via the aroma of your favorite perfume and the sound of your voice. We have a way of filling in the blanks with our memories, reminding us that distance does not limit our love.
Offering Words of Encouragement and Support
"The distance between us just makes my love for you grow. My love, be courageous, and never forget that I support you at every turn.
"Even if we're geographically apart, our hearts are always intertwined. My amazing lady, I have faith in you and am certain you have the fortitude to face any obstacle.
"Despite our distance, you continue to be my inspiration. Your tenacity and fortitude serve as daily inspirations to me. Keep moving, and know I am here, rooting for you wholeheartedly.
Distance just serves as a test of our dedication to this path of love. We are stronger when we work as a team. Always know that you are never alone. I'm here to encourage you and inform you of your incredible potential.
"Whenever you're feeling overburdened, shut your eyes and imagine my love enveloping you in a cozy hug. You are a strong, competent person who is cherished. Keep moving ahead, and never forget that I am supporting you.
"Distance may be a momentary roadblock, but our love has no bounds. Keep your eyes on your objectives, and remember that I am here to provide steadfast support and inspiration. My sweetheart, you can do great things.
Sending Sweet and Romantic Messages
"Even if the time we spend apart seems to go on forever, my love for you deepens. Even though we are physically apart, our hearts remain bound together forever. To make your day better, I'm sending you a million kisses and all of my love.
"Regardless of our physical separation, I always have you in my heart and thoughts. Every time my heart beats and every time I breathe, I feel your presence. I'm looking forward to the day we can reunite, but until then, know that I will always adore you.
"Just a quick text to let you know how much you are appreciated. No amount of distance can lessen how much I love you. Close your eyes and feel how tightly I hold you in my arms. Although we are geographically apart, our love has no bounds.
"Even though we are miles apart, I always sense your presence. Your love comforts and reassures me, enveloping my spirit like a loving hug. Please know that you are loved, and I appreciate every second we have spent together and will spend together.
"As the stars illuminate the night sky, I am reminded of the grandeur and depth of our love. Despite being separated, our relationship is unbreakable. Hold onto our love and allow it to lead you till then.
"My heart warms and rejoices every time I think of you. Despite our physical distance from one another, our love unites us forever. I cherish each shared memory and look forward to the ones we will make in the future.
Planning for the Future Together
Every day apart gets us one step closer to the day we'll construct our dream house together and make a lifetime's worth of beloved memories. Holding your hand and bringing about our future is something I can't wait to do
Although we are physically apart, our love will never be put out by distance. We're crafting a wonderful love story together, and I can't wait for the exciting chapters to come, full of laughs and a future full of limitless possibilities.
"When I look forward to our future together, I envision a lifetime of joy, despite how challenging the distance may be, it is just a short-term obstacle on our way. Let's maintain our fortitude, look to the future, and never lose sight of the beautiful life we are creating together.
"My love, while distance could put a strain on our patience, it never makes us less committed to one another. With one other, we can conquer any obstacles since our love has no bounds. I'm glad to have you by my side as I look forward to the limitless possibilities that lie ahead.
"If given a chance, I would pick you right now and every moment after that. The experiences laughs, and unshakable support we will have in the future together are endless. Although traveling apart might be challenging, it is a small price to pay for our extraordinary life together.
"I will always have you in my heart, no matter how far away we are. We can stay apart because of our love, but I can't wait till we are finally together and can start planning the future together. Meanwhile, please know I'm thinking about you often and doing everything possible to realize our shared goals.
Conclusion: Exciting Sweet Texts for Long-Distance Relationships with Her
Sweet texts serve as a lifeline in long-distance relationships, bringing love, optimism, and enthusiasm to the connection between couples separated by distance.
By sending each other loving messages, couples may strengthen their relationship, maintain the spark, and anxiously look forward to a future together.
You could also think of finding special gifts that represent your devotion and love for her. The love-Heart Necklace, for example, serves as a perpetual reminder of your love and dedication.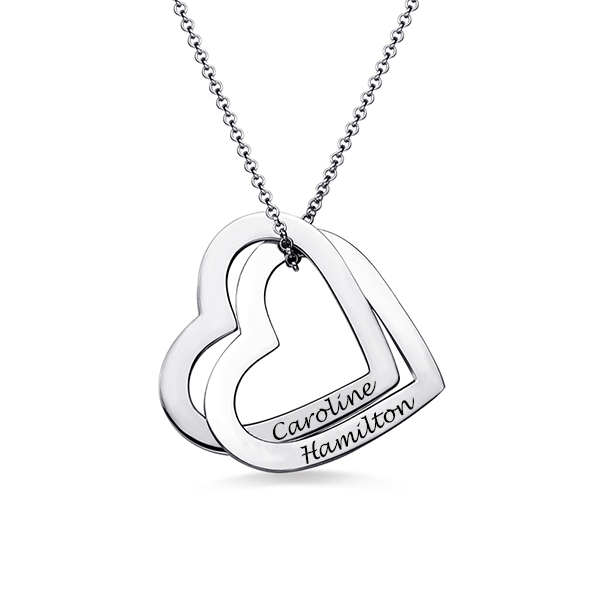 Expertly made with attention to detail, this necklace is a lovely present that will be treasured for many years.
This engravable double bar necklace with a heart cutout is another alternative that has a personalized pendant where both of your names can etch on it.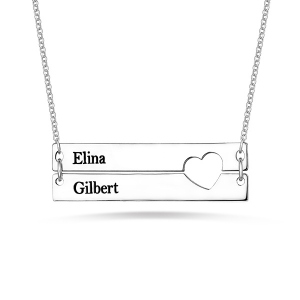 This one-of-a-kind item is one that she will love as it symbolizes your steady relationship and joint journey into the future.