When you are in love, it is natural to want to show love and compassion to your boyfriend while fostering a strong connection.
Even if deeds speak louder than words most of the time, with a few sincere compliments your boyfriend's heart would definitely skip a beat.
Even if you may not always know the exact words to use, you should still make an effort to express to your lover how much he means to you.
In this post, we'll look at several exceptionally lovely things to say to your boyfriend that will make him feel treasured, loved, and appreciated.
Complimenting His Physical Appearance
You have the most attractive smile, Love. Every time I see your smile, it makes my day better.
I find myself losing myself in your captivating gaze. They are like an ocean that I never want to leave.
Your powerful yet reassuring embrace makes me feel protected and loved as no one else can,
"Your gorgeous physique never ceases to amaze me. You effortlessly steal my breath away.
"Your sense of fashion is flawless. No matter the situation, you always manage to look dapper.
"Your body is a piece of art. I love every part of you, from your wide shoulders to your endearing smile.
When you enter a room, your magnetic presence causes others to turn around. You are my fortunate treasure.
I find your athletic and muscular physique to be quite appealing. I'm in awe of your commitment to taking care of yourself.
"Your hands are not just powerful and strong but also soft and compassionate. They match my needs exactly.
Praising His Personality Traits and Talents
You have the greatest sense of humor. On the worst days, you always manage to make me laugh.
"Your empathy and concern motivate me every day. You have a soul that is so lovely.
You have so much wisdom and a fantastic intellect, I am always stunned by you.
"It's amazing how you can make everyone around you feel special. Your personality is really alluring.
"I like how committed and diligent you are. Your dedication to achieving your objectives is admirable.
"Your real enthusiasm for life is contagious. Your passion lights up every room you come into.
"You stand out because of your distinctive inventiveness. I'm always in awe of your ability.
"I appreciate your sense of adventure. Our journey together is thrilling because you're constantly willing to try something new,.
"Your capacity to see the best in people is extraordinary. Your optimism spreads like wildfire.
"I really appreciate your constant commitment and support. I appreciate having you at my side.
Sharing Personal Memories and Experiences
Every time I watch a sunset, it brings to mind the romantic evening we spent holding hands on the beach and making priceless memories.
Every time I go past the café where we met, I can't help but smile and feel fortunate for the amazing ride we've been on since our first date, you know.
Remember when we were lost in the city, but we made the situation an adventure, and we found the cutest tiny park as a result? It's those unplanned encounters with you that make life so exhilarating.
"Us expressing our ambitions and aspirations while laughing and chatting all night is one of my best memories. Moments like those cause me to fall in love with you all over again.
I'll never forget the first time we prepared dinner together and struggled to follow the instructions, resulting in a delightful mess. It demonstrated to me how well we can overcome obstacles while still having fun.
"The day we went on that spontaneous road trip and sang out our favorite songs will always have a special place in my heart. Your pleasure and laughter spread quickly.
Remember when we discussed our weaknesses and worries while cuddling beneath the stars? Nothing else could have done more to solidify our relationship than talking to you and experiencing your constant support.
"Recalling the day you surprised me with a picnic in the park, complete with my favorite foods and a blanket to relax on, warms and makes me grateful in my heart. You always manage to elevate my mood."
Offering Words of Encouragement and Support
"Your tenacity and fortitude serve as an inspiration to me every day. I have faith in you and am certain that you can do everything you put your mind to.
"I am very happy that you pursued your goals. Your effort and zeal are very remarkable. I'll be right here supporting you as you continue.
"Remember that I'm here to help you no matter your difficulties. You are not journeying alone; we can accomplish anything by teaming up.
"You have such a lovely spirit; your compassion always touches me. Never change because the world needs more folks just like you.
"When times are rough, remember that I am your biggest supporter. You have what it takes to go beyond any challenges, and I'll be there to support you each step of the way.
Just a friendly reminder that you are capable of incredible things. Your skills and talents are exceptional, and I am certain you will greatly affect the world.
Even on your worst days, remember that I have faith in you. You possess a wonderful inner power that can help you overcome any obstacle. Continue moving forward.
Sending Sweet and Romantic Messages
"Being with you is a wonderful experience every day. Thank you so much for being in my life.
"You're not only my lover but also my closest friend, partner, and rock. I cherish you more than words can ever convey.
"My heart skips a beat just thinking about you. Even the darkest days may be made brighter by you.
Every time I see your smile my feelings for you grow deeper. You are the world's most beautiful jewel, in my opinion.
"You're the kindest person I've ever met, and your love makes my life happy. Being with you is such a blessing.
Being with you is like being in a storybook. I'm extremely appreciative of our love tale and consider you to be my prince charming.
"The greatest motivation I have is your love. It gives me the bravery and strength to pursue my goals and to become the greatest version of myself.
Showing Gratitude and Appreciation
"My heart beams with joy every day because of you. I appreciate you being the reason I'm happy.
"I appreciate you being my pillar of strength. Thank you for all you do for me.
"I'm so glad you're in my life; you have a heart of gold. I appreciate your sensitivity and goodwill.
"I'm so grateful to be able to call you mine. I'm grateful for your unwavering love for me.
"I want to thank you for never giving up on me, even when I question myself. It means the world to me that you continue to support me.
"You are very good at making me feel valued and unique. I appreciate all the attention and love you give me.
"During the difficult times, I appreciate your tolerance and understanding. Your presence strengthens me to face any obstacle.
I'm grateful to have you as a partner in crime and best buddy. I appreciate the fun times and experiences we have together.
"You give me the sense that I am the luckiest person alive. I appreciate your unconditional love for me.
"I appreciate you always being there for me. Your confidence in me encourages me to pursue my goals.
Wrapping Up
Using sweet and sincere words to show your lover your love, respect, and appreciation is a fantastic method to deepen your relationship.
Give your guy a deep message to express how much you value him keeping in mind that what matters most is the thought and work put into these words.
At the same time, as you continue to show your boyfriend your love and devotion, think about looking for a present as a wonderful substitute to surprise and please him.
Consider the stainless steel engravable photo necklace for a personal and chic option. This necklace lets you put his name or a heartfelt message making it the ideal memento for him.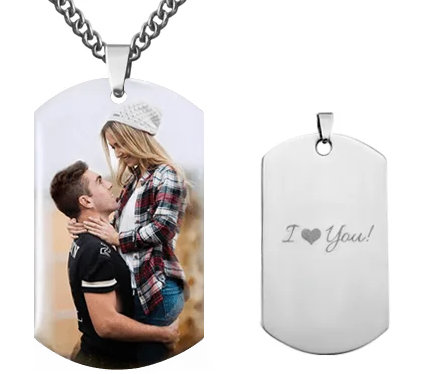 Also, check out this engraved skeleton king ring with birthstone if your lover likes stylish and striking gifts. It is a versatile item that can be worn with any ensemble thanks to its simple design and striking color.