There are so many occasions where we can celebrate those we care about. The days of birthdays, holidays, Mother's Day, and Father's Day remind us to show our loved ones how much we care for them. Sometimes, though, it's nice to make someone's day simply. What could be better than sending a beautiful good morning message?
If someone brightens your life, return the favor by sending them a simple and sweet text message. You can make someone's day by sending a "good morning" message out of the blue. Here are some "thinking of you" messages for different audiences and occasions. Check them out to see if they inspire you.
Good Morning Messages for a Friend
We are so grateful for the support we receive from our friends. It is only fair that they receive the same level of support. Send these sweet and thoughtful messages to your friend if they always make you smile.
"I hope you're enjoying your trip! Whenever you return home, I look forward to hearing all about what you've been up to."
Out of sight doesn't mean out of mind. You can still send your friend a morning message even if they are out of town.
You've been through a lot lately, I know. Just wanted to let you know I'm thinking of you. You can count on me whenever you need me."
Especially if your friend has been struggling lately, a message like this can mean a lot. You're showing them you care by doing this. Rather than calling, sending a text can be less intrusive if they need some space.
We haven't seen each other lately, I realized as I was thinking about you. We should grab lunch soon! "
Seeing our friends as often as we would like isn't always possible. Invite them to catch up with a nice message.
As a kid, we used to get into a lot of trouble. Hope you don't get into any trouble today! My love for you."
You can mention your shared past in a morning message if you and your friend go way back.
"Hi! Although I couldn't bring you coffee, I'm sending you these coffee emojis."
If you have to miss a day of coffee with a friend or coworker, send them some coffee emojis. While they don't have that sweet, sweet caffeine, the gesture may put a smile on their faces.
"It's time to shine! Unless everyone is wearing sunglasses, don't shine too brightly. It's all about safety! "
This silly message is sure to brighten your friend's day (pun intended).
"Good morning! Wishing you an unproductive day. Enjoy your time doing nothing! "
The majority of our other messages on this list are motivational. It is sometimes funny to send an unmotivational message.
Good Morning Messages for Her
Send a sweet message to a woman you admire with best wishes for the day ahead. Maybe it's your mom, your wife, your sister, or your best friend. Regardless of your relationship, receiving encouraging messages from a loved one is always a pleasure.
1. "This is an amazing view, and I wanted to send you a picture of it. You would have enjoyed it if you were here with me!"
Send a picture and a nice message if you're far from your loved one. They will feel closer to you and their day will be brightened.
2. I wish you a happy Monday! I hope you have a great day and a great week."
Mondays aren't everyone's favorite day. Consider sending her a thoughtful message if she really dreads them.
3. I just wanted to thank you for everything you do for me. Wishing you a wonderful day."
Send a sweet text to a woman in your life who has done so much for you. Don't forget to thank her for everything she does.
4. "It's going to be a busy day for you. I know you can do it! "
It is common for people to have important events in their lives. Whether it's an important presentation at work or a big test at school. Encourage your loved ones on those days when they need it most.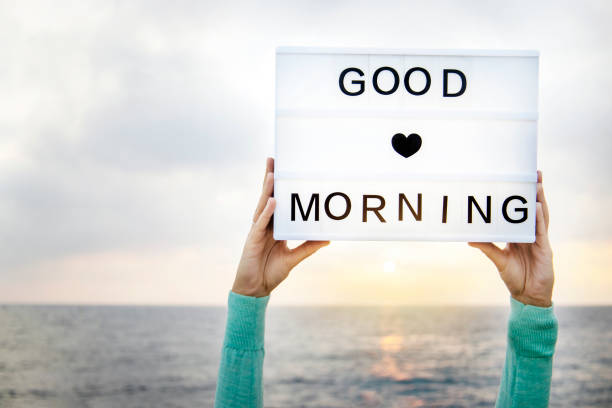 Good Morning Messages for Him
Women are stereotyped as being more emotional than men. Messages of encouragement and support are also important for men. No matter what our gender is, we all need to lift each other up. You can cheer up the men in your life with these morning messages.
"I just wanted to wish you a safe journey today. Please let me know when you arrive! "
Send an encouraging message to a guy in your life who is traveling for work or for fun. Knowing that you're looking out for him will make him feel better.
"You have been working so hard lately. Is there anything I can do to help you take a break? "
It can be challenging for men to engage in self-care rituals. Giving them permission to take a break can help them feel better.
"Good morning! Just thinking about you. Do you have any free time this weekend? We might be able to hike together."
Send a morning message to a guy in your life asking to do something together that he enjoys. Taking an interest in someone's passions means a lot to them.
"I've been thinking about you lately. I wanted to check in on you. Have a great day!"
Use a good morning message to check in on a guy in your life who has been laying low lately.
The Final Take
Breakfast is the most important meal because it starts your day on the right foot. However, we need more than just physical nourishment. Emotional nourishment is also important. One way to lift the spirits of loved ones is to send them a motivational morning message.
Along with the beautiful messages, Getnamenecklace allows you to find the perfect gift for him and the perfect gift for her if things are not good between you and them and you want to make things normal as they were before. No need to worry as we have hundreds of lovely products to make your and theirs day.