Do you want to buy a ring for your girlfriend but are confused about how to know her ring size secretly? Don't worry! We are here to clear all your confusion.
Marriage Proposal- Keep It a Surprise
You can ask your girlfriend straightaway for her ring size, but it will ruin the surprise. Who doesn't love surprises? And when it comes to a marriage proposal, it is a thing your girlfriend has been longing for. So if you keep all the preparations for the marriage proposal secret, your girl will live that fantastic, surprising moment to her fullest. In case you don't keep it a secret, you will not be able to see the amazement on her face at the moment you will propose to her for marriage. So make sure not to eliminate the factor of surprise from your marriage proposal.
Some Easy Ways to Get Her Ring Size Secretly
If you want to surprise your girl with a dreamy engagement ring, then here you go with some easy ways to secretly determine her ring size. Follow any of these to get a ring that fits on her finger and touches her heart.
Take a Sharp Move while She is Sleeping
She may fall asleep during a movie night or a boring football match. And here comes a hilarious opportunity for you to get her rings size.
Take a piece of the strip and wrap it on your partner's ring finger. Mark the size with a pen or marker. You can use a string instead of a paper strip as well. Measure the length or take it to the jeweler to get more accurate results.
You are on the safe side as long as your partner is sleeping. Make sure to be ultra-cautious while measuring the size particularly when she is likely to wake up with the slightest of disturbances.
Use Her Ring to Determine The Ring Size
You can take her ring, measure its size with a piece of string or a paper strip, and know a nearly accurate ring size. However, getting her ring is not easy. Here are some ways to do so.
Search in Her Jewelry Box
Girls often take a small ring case or jewelry box with them especially when traveling. So it will be a great opportunity for you to find her ring size. Check the rings in her jewelry box and be careful about the type of ring you are measuring the size of. The ring she wears on the thumb will, of course, be larger. Therefore, make sure to measure the ring that she usually wears on her ring finger.
Contact Her Mom to Get Her Ring Size
If her mom knows about your relationship, then the best way is to ask her mom about her ring size. Even if she doesn't know the ring size, she can take out the ring from the girl's jewelry box and give it to you. Call this helpline as this will help you get accurate results.
Buy a Ring Sizer for Precise Measurements
If you somehow manage to get her ring, then the best way to measure the size will be using a ring sizer. You can order it online. The ring sizer will eliminate the chances of errors in the measurements and bring you closer to precision.
Take Help from Friends
Her friends can help you find the right ring size. Girls often discuss jewelry pieces and here comes the point where your question can land in the discussion. Her friend can smartly ask your girl about her ring size.
Take your Girl to Jeweler
Is there an event coming up like her birthday? If yes, then take her to a jeweler and ask her to try some bracelets, necklaces, and sparkling rings. Just keep an eye on her when she tries some of the rings. Check which one fits her finger.
Gift him a bracelet or a necklace this time and keep the ring size aside to surprise her with a marriage proposal.
Start a Relatable Conversation
Imagine you and your girlfriend are watching television and a commercial for a ring appears on the screen. Start talking to her randomly about her likes and dislikes in rings. Then turn the topic of your discussion towards the ring size and ask her some random questions like where do you buy your rings? What ring size fits your finger? etc.
However, you need to keep this discussion very random so that she can never suspect what you are planning.
Don't Take Stress, you have The Option of Resizing
Rings can be easily resized. So don't stress over getting the right ring size. You can go with the average size and later get it resized in case the ring is loose. So be peaceful while planning the marriage proposal for her. It's not a thing to stress over. It's a point to enjoy and live the moments.
Pretty clear about how to find her ring size, right? Now you must be looking for some elegant promise rings to buy the one for her. Here we have some beautiful recommendations for you.
A finger cross name ring is a beautiful way to surprise her. This ring will wish her a stroke of very good luck for starting a new phase of life with you. The brilliant shine of the ring makes it elegant and shimmery.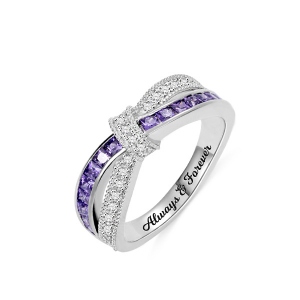 An engraved heart stone infinity ring will be great for presenting her heart filled with infinite love to her. The two-round gemstones on the ring symbolize everlasting love. this ring will give your girl a royal treatment and she will abruptly say a big "yes" to your proposal.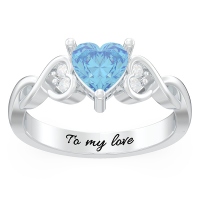 Conclusion
You are now familiar with the ways to get her ring size. So there is no time to waste and delay the marriage proposal. Check out the rings at getnamenecklace to find the dream ring for your princess. Get the ring and get ready to rock the moment!