What gift did you give your mother on Mother's Day just now? Have you ever thought of giving a custom bracelet with a unique design? A basic custom bracelet with all the function beads, including: clip, pendants, safety chain, spacer, charms and bracelets.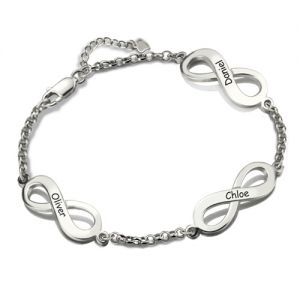 Bracelets
A separate leather rope without other beads can be very fashionable.
Custom basic snake bone chain with soft texture can be arbitrarily matched with beads.
The bracelet can be worn alone or with other beads. Compared to the snake bone chain, the chain is softer and the bracelet is harder. But this is also a matter of personal preference.
E series snake bone chain is the most popular basic bracelet for customization. Because its material is soft, it fits the wrist arc, and it is simple and beautiful with custom beads.
When choosing a snake bone chain, it is generally recommended that the length be larger than 3-4 cm of wrist circumference. It's comfortable and beautiful to wear. It's good to leave a little space between the wrist and the bracelet.
What is the clip? The clip is a buckle which is buckled in the middle position of the snake bone chain and used for fixing the beads to prevent the movement of the beads. Generally, a custom bracelet will have two clips, one on each side, and the chain will be divided into three sections. The other beads will not move randomly because they have a fixed "knob". There are also many options for fixing buckles, such as the sweet rose clip. And there are simple silver clip, flower shape clip and so on.
There are so many options that make customer hard to choose from. Beginners of bracelets can choose relatively simple clips, on the one hand to avoid mismatching into the minefield, on the other hand, the classic models will never be out of date, which can also save your money!
Everyone thought that there are only many kinds of options for clip. You're only half right. Custom charms have a variety of styles, even pendants. You will want to wear each one of them on your wrist! The snowflake-shaped pendant has a partysu feeling. Whether it's a clip or a pendant, the workmanship is quite exquisite and every small detail strives for refinement. Everyone has their own favorite pendant. A custom bracelet can be used with one or two pendants. There are numbers, peach hearts, flowers, etc. Everyone can match a unique custom bracelet according to their own preferences.
As one of the necessary accessories for a custom bracelet, the function of the spacer is to adjust the overall length of the bracelet and balance the visual beauty. Although ordinary, it is indispensable. There are also many choices of spacer, colored and solid colors, glass beads and sterling silver garlands. It feels very reasonable to say, "When you enter the custom shop, it looks like the sea". With the balance of the spacer, doesn't the overall look more pleasing to the eye?