Marriage is the most important moment in everyone's life, and rings are especially important, so we will inevitably be picky. An engagement ring is more than just a jewelry. It witnesses your eternal happiness. If you can't find the right ring at this time, it may be that the selection method is wrong. How to find affordable engagement rings that you want to wear on your finger forever? Take a look at these 8 suggestions.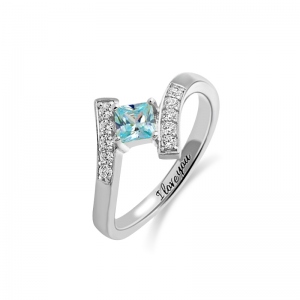 There are many types of diamond cutting, such as round, oval, square or drop shape. The most classic is round, which is the most popular choice. It is the style that never goes out for a long time, it can better present the interface and polishing of diamonds.
Find inspiration from your family
You can find some inspiration in your family. What kind of rings do moms and grandmas have? We can choose a similar style as a heritage. Wedding rings back in the days of grandparents may have some retro elements. The sapphire ring on Princess Kate's hand is the same as Princess Diana's style. It symbolizes the inheritance of love and is also a blessing from the family to us.
An engagement ring is a huge consumer, both emotionally and financially, so finding a brand with high cost performance and good quality can be assured. Find a jeweler using certified responsibly sourced diamonds and provide good after-sales services such as diamond cleaning, inspection and repair.
Select your favorite material
Choosing a diamond is half the battle, and the next step is choosing the material of the ring. Do you want a gold or platinum material? Or do you like rose gold to match your skin tone? Platinum is suitable for marriage proposal and marriage ring products, K gold and rose gold are more suitable for wedding anniversary and fashion styles, When choosing platinum, K gold, gold, or rose gold, think about which material you prefer.
Choose your favorite brand
If you want a more traditional and classic ring style, you can choose a long-established jewelry brand, engagement rings are a particularly classic choice. If you want to have some personalized customization, there are also some brands that will meet your needs. For example, custom jewelry will engrave your name on your ring to become a unique and exclusive ring.
Choose the right style to match your temperament
Find a ring that suits you and start with your own style. For fashionable and classic style, simple round or princess cut may suit you. Choose a brand to look at his production details, such as classic proposal rings. If you like very exquisite jewelry, you can avoid choosing the heavy industry inlaid brand series.
A ring is something you need to wear every day! You might as well go to the jewelry store together and choose instead of making a decision by yourself. Choose a commonly recognized diamond jewelry and ring material to make your choice more perfect.
Exclusive private customization
Haven't seen the one you like? This is the time for the designer. Custom jewelry provides a new customization service that can make you satisfied with every detail of the design, and you can make the meaningful one that belongs to the two of you.
Planning to buy a diamond engagement ring? Then you will need to understand the 4C standards, diamond shapes, cut methods, metal features, setting types, etc.
The first knack to buying a diamond engagement ring is to understand the 4C standards: color, cut, clarity, and carat weight. The 4C standard, founded by the Gemological Institute of America (GIA), is a globally recognized diamond quality evaluation standard that you can use to compare diamonds.
In short, the 4C standard is:
1. Color: The diamond color grade is from D to Z, used to evaluate the colorlessness of the diamond. Lighter colored diamonds are rarer.
2. Cut: The cut quality of the diamond determines the degree of light emitted by the diamond.
3. Clarity: Diamond clarity refers to the distribution of inclusions and surface features.
4. Carat weight: Diamond carat weight determines the appearance size of the diamond.
The 4C standard is very practical, and it is worth your time to learn. It is a universal language for describing diamond quality. Master this language and you can buy diamond engagement rings with confidence.
Understand the difference in diamond shape, cut style and cut quality
Before you start buying engagement rings, you should understand the difference in diamond shape, cut style and cut quality. Shape refers to the outline of the diamond as seen from the front. By far the most popular diamond shape is round. But other shapes (known as fancy shapes) are also popular, including horse eye, pear, oval, rectangular, square and heart.
Cut style refers to the arrangement of diamond facets. For example, the most common facet arrangement for round diamonds is the standard brilliant cut style, with 57 or 58 facets arranged in a particular order. Other cutting styles include emerald cutting, the main body is square or rectangular, and the classification is based on the four narrow sides (stepped cutting) and the angle of the hypotenuse. Radiant cut diamonds are also square or rectangular, but in a brilliant cut style.
Cut quality refers to the interactive effect of diamond facet and light. Diamond cuts of the same shape and style may vary in mesa size, waist thickness, polishing and symmetry. These differences affect the facade of the diamond and affect the quality of the cut.
The ring metal of an engagement ring affects the overall appearance of the ring. White gold and platinum have been popular for many years, and both can create a sleek, modern look. They are ideal for matching diamonds with color grades ranging from colorless to near-colorless (D to J on the GIA color grading scale), which can further complement diamond transparency. Setting these diamonds in yellow claws makes them look yellower.
The diamond in the engagement ring is fixed in the setting. The setting serves two purposes: to highlight the beauty of the diamond and to protect it from damage. Different inserts can provide different degrees of protection.