Initially Yours Forever
The origin of the alphabet necklace can be traced back to the 18th century in Europe. At that time, the letter necklace was extremely luxurious and was only worn by the nobility and the royal family for important occasions. It was a status symbol.
Fashion never fades. Classics are always on. The alphabet necklace, which dates back to the days of princess Diana, has been very popular. The "D" necklace has been worn by princess Diana since she was 16 years old and carries a lot of memories from her teenage years to becoming a mother of two. To this day, 26 English letter elements have always been the classic material for designers, whether it is international brands or light luxury jewelry.
The necklace
Two styles of Monogram flowers: one USES white shell to release soft luster, and the other USES semi-circular pink opal stone to build a new style. Wear alone or many stack, can reveal modern meaning.
Decorated with a crystal diamond, it is set in a golden border. The geometric lines and sculptural texture reveal the contemporary charm.
Monogram jewelry series integrates delicate Monogram carving pattern and shiny metal surface, showing distinct design personality and strong modeling temperament. The pendant necklace has an adjustable design and comes with a small photo holder.
Subtle, classic, elegant, proud. That is what happens when you wear a beautiful monogram necklace – the signature piece of personalized jewelry.
Monogram necklaces are popular with both men and women; the styles vary to fit any physique and personality. Why choose a monogram necklace? The answer is two words: understated elegance.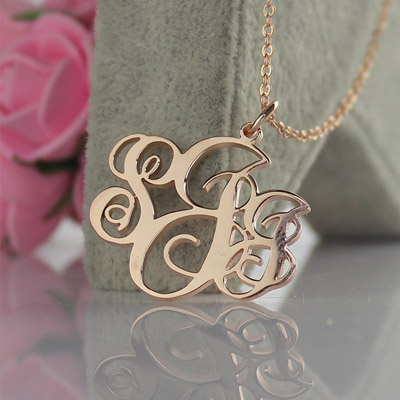 In personalized jewelry selections, a necklace can be a full name or monogram. If the name is long (over 10 letters) or you would rather not wear your full name, a subtly designed monogram provides personal customization with a degree of anonymity. You know what those letters mean, it is your unique identity in the world, but perhaps you would rather keep some degree of privacy.
For more formal situations like dressing for professional purposes,or even for formal dress, a monogram necklace is the perfect accessory. Classic! What an excellent idea to give as a gift for bridal showers, bachelor parties, weddings, for a new baby, graduation, birthday. . . or not reason at all. We give monogrammed towels, sweaters, shirts; why not start the tradition of monogram necklaces as well?
When selecting a monogram necklace for yourself or another, the options are countless and include such details as variety of fonts, script and block, sizes, chain lengths, and weights, gold, white gold, silver, or composites, as well as options for diamond or other gem enhancements.
Monogram necklaces, found in so many varieties, sizes, and configurations, are a unique and elegantly understated way of wearing confidence and esteem. While others may only see a beautiful piece of high quality initially yours jewelry, you will know what the real value is. That necklace is you.
If you need more information, we are at your disposal.http://www.getnamenecklace.com/
If You would like to contact us please click here: http://www.getnamenecklace.com/Contact-us