Make a bold statement with a nameplate necklace
The necklace originated from the "robbery marriage" custom during the transformation period from matriarchal clan to patriarchal clan in primitive society. At that time, women's social status gradually declined and men's economic status gradually improved. After the war, his wife was taken into exile. To prevent the women from escaping during the fighting or at night, the victors often put a piece of wire or rope around the women's necks that looked like a necklace. After the establishment of the husband's residence system, some places still maintain this custom, only under the premise of the marriage contract, "rob" as a form of marriage, those around the neck of the wire or rope also evolved into a necklace, become a kind of marriage token.
Another theory is that necklaces originated from ancient pearl fishermen. The divers were often naked when they entered the water, and for their convenience the wise divers wore a wire or other string round their necks to wear the pearls they had gathered. Later, it was discovered that the beads on the necks of fishermen were so beautiful that they were imitated and became ornaments.
Modern fashion evolves rapidly and closely mirrors the trends seen in the society at large. In a world that is getting very crowded, everyone wants to stand out. Jewelry has adapted to this idea as well, and nameplate necklaces are a result of this very need. You can get a nameplate necklace that proudly proclaims your identity to the rest of the world, and acknowledges that you are someone who takes your own identity very seriously. It shows a no-nonsense attitude and portrays you as a confident person. More than anything, it is a great and funky accessory which has become a must for the youth of today who experiment with their looks a lot but are not willing to lose their identity in the process.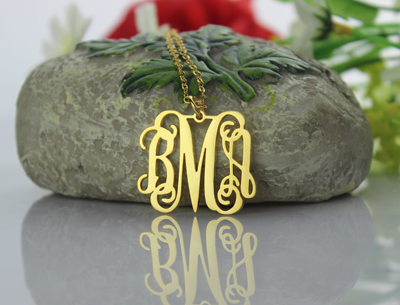 Fashion is all about making a statement with what you wear. Accessories play a very important role in this. A nameplate necklace makes a loud and clear statement about your identity. It looks very chic and has a very modern element of style to it. You can get a nameplate necklace made in silver, gold, or other popular but cheaper metals as well. It is long lasting and can be worn on any number of occasions. It mixes well with other accessories as well, and you can get matching rings to enhance its effect even more.
Customized accessories have become very popular these days. And a need to look different plays a huge role in this. You are an individual and anything that you wear should be just as unique as you. Popular brand clothes limit your options, but with nameplate necklaces you can ensure that you always sport something that is one of a kind. So now you can enjoy your individuality with these fashionable necklaces and bid adieu to boring and generic accessories.
If you need more information, we are at your disposal.http://www.getnamenecklace.com/
If You would like to contact us please click here: http://www.getnamenecklace.com/Contact-us