Custom-made name necklace is nowadays a thing that a lot of young people chase after. In this era that pays attention to individual character, custom-made name necklace is an extravagant and fashionable move. You can show your identity to the world, but you can also let yourself more characteristics and personality.
Custom-made name necklace can call
letter necklace
again, it is the necklace that makes a special order with the text that needs and symbol. Different from other mass-produced jewelry, make your own name into a unique necklace, more self-revealing, more publicity personality.
After the popularity of the "Carrie" letter necklace, it also gave many jewelry brands unlimited inspiration, and they launched customized necklaces or letter necklaces with allegorical meanings. If you think that the name custom necklace might let others easily know your name, just like wearing a zodiac pendant, and the age is inadvertently exposed. You can choose letter necklaces with broad meanings, such as "Love" or "Hope". These are also very characteristic.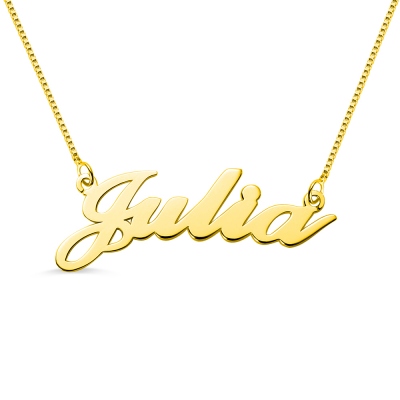 Name necklace is nowadays tie-in dress indispensable popular adorn article. Whether it is worn by oneself, or given to the beloved person to express the heart or given to a friend as a birthday gift, custom-made name necklace is the most romantic, the most unique gift.
Want to infuse the thousand thoughts and endless love into the jewelry? Whether it is anniversary, birthday, marriage or new life, "MyNameNecklace" series is the best choice to help you express your feelings.
The European-style elegant temperament of the English alphabet necklace allows you to design meaningful strings with your heart, and to hang your love information in your heart. You can also use your or your lover's name to make a necklace and miss each other every day. Love more than words.
Make a necklace or bracelet in her or his name and put it on a diamond that represents eternity, carry the love with you all the time! Saying "I love you!", I am afraid it is a bit difficult to say it out loud? Isn't it better to be implicit and give your name necklace, so that the loved one can "carry" you every day. The meticulous and romantic cursive, filled with European elegance, put your love information in your hands. Design a meaningful string with your heart and interpret your heart with your love. Engrave your name, anniversary or love password to create your own unique love token, whether it is hanging on the neck or worn on your hands, sweet in your heart! Mysterious black diamond, elegant pink sapphire, pure beauty white diamonds, which side belongs to you? With 26 letters for you match with black diamonds, white diamonds and pink sapphires, you can create three different personal temptations to make you love at first sight!
Summer is coming, you can wear this character full-mark name necklace to bring out your perfect personality. With it you can dress all over spring, summer, autumn and winter.
The letter necklace has become the most popular item nowadays. Simple letters have evolved over time to be innovative. Unique letters have become the best embodiment of love among lovers. While the finished necklace you see in the store may not be the one you like, if so, then custom name necklace will be a good choice. How to custom you perfect one?
How to customize diamond letter necklace?
First, to determine the letters you want to customize. It can be your own initials, English name, or the couple taking each other's letters and adding them together. When choosing letters, you should pay attention not to add too many. It is advisable to use 5 to 8 letters. Wearing too many letters on the chest will be cumbersome and heavy.
Second, find a well-made custom studio, design the selected letters by the studio to choose the most satisfactory effect. Then choose the material. If you don't want cost too much, you can use sterling silver. If you like texture, you can choose 18K gold, platinum or rose gold, according to everyone's preference. If you have fair skin, you must choose gold and rose gold.
In the fashion trend, regardless of clothing, shoes and bags, the letters are like protagonists. As a trendy perpetual motion machine, it shines in the field of jewelry. In this upcoming summer, the letter element jewelry is also refreshing to enhance fashion magic weapon.
Personal and daily letter jewelry
Letter jewelry has swept through a wave of fashion since the time of Princess Diana. Now it is back again, appearing frequently in everyday wear and street shooting with high frequency, becoming a bonus point for styling and a secret treasure for personal expression. Letter has both a sense of shape and the expression of personalization and personal emotions in jewelry, which makes the modeling that gets fashionable individual character becomes easily.
It is very eye-catching when you wear it in combination or alone. This is the advantage of letter jewelry. Cool and crisp when worn alone and combine create a layering.
For the upcoming summer, we have designed a 26-letter necklace that will turn you into a beautiful scenery this summer. We have also launched a series of twelve constellations for everyone to choose from. Such a delicate and exquisite letter element necklace is not as prestigious as a large pendant, but its lightness and elegance always give people a fresh look.
Finally, of course, diamonds are indispensable for name diamond necklaces, so is it more expensive to choose diamonds? Actually not. If you choose a small fraction of diamonds, such as 1 or 2 points, the price of one piece is affordable. Although the diamond is small, it also meets your desire to own a diamond. If you set 3 diamonds, you can achieve a brilliant effect!
A flash diamond, flashing your blessings in a photo frame with a commemorative value, witnessing your love, let unforgettable moment stay in memory forever. Looking for a diamond that fits your heart? No need to worry anymore! Come and custom your out-of-the-ordinary love token.