Showcase your style and personality with name necklaces
In the paleolithic period, necklaces were not necessarily for decoration. After all, in the history of art, utilitarianism was more important than artistry. In the paleolithic period, the materials used were optional, such as stone beads, animal bones and teeth, which could be made into necklaces. It was to count, to compare who was hunting more animals with their companions. By the neolithic age, necklaces had been made by hand. This is the earliest human technology, after years of precipitation, the necklace finally by the utilitarian trend of aesthetic development.
Enter class society, people have the habit of wearing a necklace to carry out daily decoration and beautification, of course, material disparity is very big. The noble class is mainly jade, and the common people can not afford jade, can only find some common things such as shells to dress up.
The diversified development of necklaces also began from modern times. The chexin necklaces, which began to be influenced by the west in the period of the republic of China, also have the characteristics of The Times. As people pursue to beauty more and more rich, the material of necklace, colour, modelling, the height that develops with the progress of times and science and technology, craft rises.
Everyone wants to look fashionable and if a simple accessory like a necklace can help you do this, then there is no reason to miss out on this opportunity. Necklaces have been helping men and women make a fashion statement since the earliest civilizations and have been depicted in almost every culture that we have discovered so far. Fashion is all about what you wear and the accessories you choose that compliments your dress.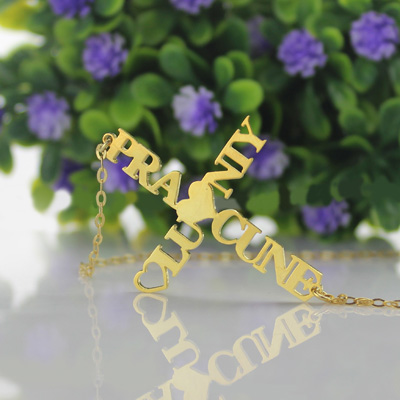 Necklaces play a very important role in maintaining a unique style and makes you look different from others. A piece of jewelry can be the perfect gift for someone special in your life. No matter what the occasion is, a necklace is the best personalized gift. Gift someone you cherish a gold necklace with her initials on it set in a beautiful pattern and decorated with beautiful stones. There are a diverse variety of choices among the designs of the necklaces that are available for you to choose. Exceptional design and numerous number of fonts available will make sure that your monogram necklace gold is extraordinary.
Name necklaces are a gift that all your close friends will love. It is a unique present, and very popular as well. Make sure that they do not miss out on this rage and are able to sport a name necklace that was made just for them. The superb quality of the jewelry makes sure that your gift is adored forever. These necklaces can be worn practically with any kind of dress, and on any occasion.
Hundreds of options are available to you in terms of material, designs and styles, and new styles are designed every day. You will never be short of choices when it comes to name necklaces, and you can get several different necklaces to ensure that you have the perfect necklace for every occasion.
If you need more information, we are at your disposal.http://www.getnamenecklace.com/
If You would like to contact us please click here: http://www.getnamenecklace.com/Contact-us