Trendy and Artistic Monogram Necklaces Go With Every Outfit
Take a peek at the jewelry stores lately and you will see a lot of initials everywhere. These little letters on gold and silver chains are one of the new "hot" jewelry trends sweeping the market. Whether in gold or silver, plain or fancy, monogram necklaces are making a splash in the style bazaars. What you might not have seen yet are the pieces that are based on the traditional designs that have modernized them with unusual materials and additions that not only make them more unique, but also show off the wearer's artistic side.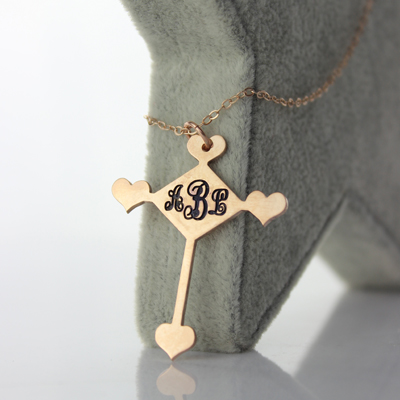 Most people think of bespoke jewelry as having your own personal stamp? Actually, that's just part of the customization.
Customized jewelry is different from the finished jewelry purchase in the shopping mall. It is based on the customer's will to determine the style, gems, metals, etchings and other personalized content. Bespoke jewellery is getting more and more popular among young consumers.
1. Free design
When you see the style you like, describe it accurately and make it perfect. Or the choice merchant existing style, put forward to modify the opinion to stylist, achieve the ideal effect in the heart.
2. Return to value, not brand
Jewelry market big brand rise, high prices. For example, diamonds, one carat diamonds of brand store F VS2 3EX, are sold from 10W to 20W, including raw materials, labor, marketing, advertising, tax and other expenses, which will all be paid by consumers. There is no red tape in customizing jewelry, and the price is only a fraction of the big-name price.
3. Take full advantage of raw materials
Bespoke need not set form, can use because of material, make full use of the advantage of raw material itself, show the beauty and variety of jewelry. Custom-made diamond ring, only one, like the only love, is the most touching heart.
One of the nice things about the surge in small jewelry makers in recent years is that many of the old, traditional styles are being updated into new and exciting designs. The plastic monogram necklace is one of these trends. Traditionally, this monogram necklace was made in either silver or gold with fanciful letters. Some of the recent styles, coming from amateur and small-scale jewelry makers are looking past those restrictions and branching out into plastics, non-traditional metals and making the necklace fancier with the addition of gems or charms. All of these concepts are breathing new life into an old favorite and bringing the interest in this beautiful piece back into our awareness.
Although I am certain that traditional piece won't be going out of style anytime soon, the updated necklaces will give it a run for its money in the sporty or casual look. Big, chunky plastic letters on a beaded necklace, while not dressing up a t-shirt and shorts, would certainly be a sporty addition to the outfit and show off your cute and sassy side. Thankfully a lot of jewelry makers are taking a second look at traditional jewelry and updating it to a modern style.
If you need more information, we are at your disposal.http://www.getnamenecklace.com/
If You would like to contact us please click here: http://www.getnamenecklace.com/Contact-us